Port Dickson, Negeri Sembilan, 12 August - Fun, laughter and merriment were the order of the day as 2618 people comprising families, colleagues and associates took time out to enjoy themselves, relax and foster closer ties at the Honda Malaysia Family Day 2007.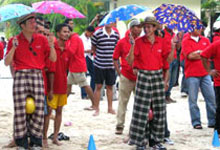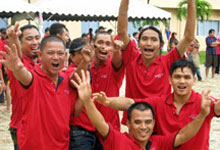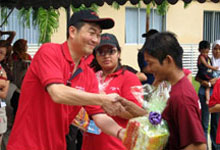 The annual event, which was held yesterday at the Tiara Beach Resort, Port Dickson, was organized as a gesture of extending Honda Malaysia's appreciation to its associates and family.
The Family Day 2007 started with a hearty breakfast early in the morning, followed by a buzz of activities which included the official launch by Chief Executive Officer & Managing Director of HMSB, Mr. Atsushi Fujimoto, President & Chief Operating Officer of HMSB, Mr. Kamaruddin Abdul Kadir and Vice President of HMSB, Mr. Kenji Tanaka.
"I am very grateful to see all our associates and family members spending precious time to attend this event," said Mr Atsushi Fujimoto, Chief Executive Officer & Managing Director of Honda Malaysia Sdn Bhd in his speech. He was encouraged by this year's attendance turnout and felt that the event was an ideal opportunity for staff and families to cultivate stronger relationship.
The event was filled with telematches and games that kept the attendees on their feet, entertained and wanting for more. As a big family in Honda, employees are appreciated for their contribution to help steer the company towards its objectives, added Mr Fujimoto, who hoped that future events will bring even greater interaction and closer bonding.