The Honda i-DSI engine can take you as far as 26.2km with a litre of petrol.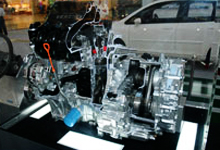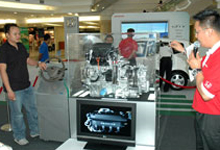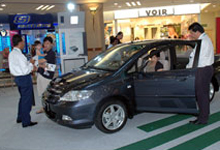 Unbelievable? This is the result that was verified by Automobile Association of Malaysia (AAM) after the Honda Fuel Efficiency Automobile Test (F.E.A.T.) on May 19-20, 2007.
Following this amazing F.E.A.T., Honda Malaysia Sdn. Bhd. organized the Honda Fuel Efficiency Roadshow 2007 to demonstrate the technological advancement of the i-DSI engine along with Electric Power Steering (EPS) and Continuously Variable Transmission (CVT), which contribute to superior fuel economy without sacrificing on driving comfort and style.
Honda Malaysia Sdn. Bhd. also shares with consumers how the F.E.A.T. challenge was conducted and the excitement of the challenge via video display at the roadshow.
The roadshow takes place on 13th-17th June at One Utama Shopping Centre, PJ and 20th -24th June at Mid Valley Megamall, KL.
Consumers can learn how the unique i-DSI twin spark plugs works to give rise to efficient fuel combustion.
Besides having excellent fuel efficiency, the Honda City also maximizes on space and convenience via the innovative Ultra Seat technology and spacious trunk of 500 litres capacity.
The i-DSI, which stands for Intelligent-Dual & Sequential Ignition, is Honda's second i-Series engine, which employs compact combustion chambers and two spark plugs per cylinder with ignition timing individually controlled for more rapid and complete combustion.
It achieves high fuel efficiency. The compact, lightweight design of the engine also contributes to collision safety while also enabling a cab-forward styling.
The i-DSi engine is developed exclusively by Honda for compact vehicles, such as Honda City and Honda Jazz. The Honda City i-DSI and VTEC as well as Honda Jazz i-DSI are also displayed at the roadshow.
Check it out at One Utama and Mid Valley to see innovation at work.
Details for the Honda Fuel Efficiency
Roadshow 2007 :
13 - 17 June, 2007
One Utama Shopping Centre,
Bandar Utama, Lower Ground Floor, Oval.
20 - 24 June, 2007
Mid Valley Megamall KL,
Ground Floor, EEA & EEL Area.