Honda had the honour of being conferred with the BrandLaureate Award 2007/08 in the Product Branding Category, recognised as the Best Brand in Automobile recently.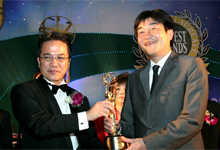 Chief Executive Officer and Managing Director of Honda Malaysia, Mr. Atsushi Fujimoto receiving BrandLaureate Award from Deputy Minister of International Trade and Industry, YB Datuk Liew Vui Keong
Also known as the Grammy Awards for Branding, the BrandLaureate Award was conceptualised to honour brand excellence amongst the best of brands in Malaysia and the world. The BrandLaureate Awards is the only Brand Award to be endorsed by His Royal Highness Duli Yang Maha Mulia Yang Di-Pertuan Agong, Tuanku Mizan Zainal Abidin. The winners are selected based on a 300 point selection criteria, consisting of brand strategy, culture, integrated brand communication, brand equity and brand performance.
Speaking at the awards ceremony, CEO of The BrandLaureate Dr KK Johan said, "The winners of the BrandLaureate awards are brand leaders in their respective categories and have demonstrated the best branding practices. They have adopted a brand strategy which I have defined as relevant differentiation."
In receiving the award on behalf of Honda Malaysia, Honda Malaysia's Managing Director and Chief Executive Officer Mr. Atsushi Fujimoto said, "At Honda, we believe in constantly delivering products and services of the highest quality at an affordable price to our customers. This is another milestone for Honda and the credit goes to all Honda's associates who worked very hard to overcome obstacles."
Mr. Fujimoto also added that Honda always strives towards ensuring high quality in products, sales and after sales services. Being conferred with awards such as this one is an honour and a recognition, Honda will continue to work hard to meet and fulfill the ever changing expectations of its customers in Malaysia.
Honda is a company that is not only focused on sales. Honda places importance in being a company that seeks to contribute back to the society wherever it operates. With this commitment, Honda Malaysia has initiated several CSR projects, namely the Save the Sumatran Rhino project and the Honda Dreams Fund.