Bright and early on the morning of Saturday, 8th November, before the sun even rose, more than 150 enthusiastic Honda Malaysia suppliers and associates gathered at the Tropicana Golf and Country Resort in Petaling Jaya. All of them were geared up and all set for a day of exercise, fun, competition and even prizes. All these while doing their bit for the environment and charity!
This was the morning of the 6th Honda Classic Golf Tournament - an annual affair that is very much celebrated and eagerly anticipated especially by Honda's suppliers. And the Grand Prize for the Hole in One this year is the fuel efficient and environmental friendly Civic Hybrid, which is one main reason for the buzz of excitement in the air
The theme for this year's tournament was "Protect Our Nature for Tomorrow" which is also in line with Honda's 10th Mid Term Direction on Environment. While networking and having a good time golfing, Honda's suppliers and associates seek to communicate the message of the importance of caring for our environment.
With this in mind, a symbolic planting of a tree by Managing Director and Chief Executive Officer of Honda Malaysia, Mr. Atsushi Fujimoto and Vice President, Mr. Ikuo Kanazawa marked the opening ceremony of the 6th Honda Classic Golf Tournament. After the tree planting, En. Azman Idris, Chief Operating Officer and President of Honda Malaysia had the honour of performing the ceremonial tee-off, amidst cheers and applause from the crowd! Similar to last year, the ceremonial tee-off was done using the "Halley's Commet Smoke Ball" which is made of environmental friendly material.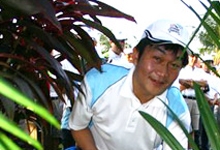 Mr. Atsushi Fujimoto, MD & CEO of HMSB, planting a tree to officiate the ceremony.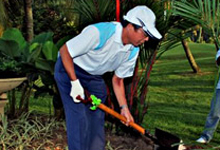 Mr.Ikuo Kanazawa, VP of HMSB planting a tree.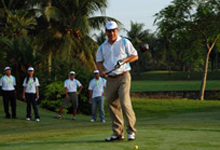 En. Azman Idris, President & COO of HMSB getting ready to perform the tee-off.
After finishing the game and freshening up, the group gathered for lunch, entertainment, lucky draws and prize giving! Winners for the 6th Honda Classic Golf Tournament are:
| | | |
| --- | --- | --- |
| Placing | Name | Company |
| 1st | Hideaki Shigematsu | Nippon Express |
| 2nd | Yap Toon Choy | Kein Hing Industry |
| 3rd | Shimura Keiichi | Nistrans |
| 4th | Jimmy Chong Yan Foh | Printco Niaga |
| 5th | Norhamzah Nordin | Nagatrend |
| 6th | Gary Lee | Nihon Parkerizing |
| 7th | Shen Tian Chua | Makiansia Engineering |
| 8th | Naoshi Hagihara | Nakanishi Conveyors |
| 9th | Ismail Zakaria | Continental Automotive |
| 10th | Mitsuru Ishimoto | Sunchirin Industries |
| Best Gross | Shen Tian Chua | Makiansion |
| Wooden Spoon | Takamaso Ito | Honda |
Enthusiastic suppliers posing in front of the Civic Hybrid.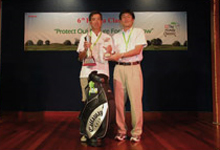 Mr.Atsushi Fujimoto, MD & CEO of HMSB presenting the 1
st
prize to Mr. Hideaki Shigematsu from Nippon Express.
Group Photo with the winners.
But these are not the only winners for that day. In fact, all 125 players that day are winners in their own right - for their contributions to charity and the preservation of environment! A total of RM6060.60 was collected for charity at the tournament and Honda Malaysia will top the amount to RM12,000. The organizing team have decided that the proceeds of the donation will be given to charity, which will be announced in due time.
All in all, it was indeed a fulfilling event and a day well spent! In fact, everyone is already looking forward to the 7th Honda Classic Golf Tournament!