Excitement and eager anticipation was definitely in the air as the 60 shortlisted HDF candidates started arriving at Holiday Inn Glenmarie, Shah Alam for their 3-day motivational workshop entitled "Dare to Dream". The workshop was held from April 13 to April 15, 2007.
Having submitted their essays on their dream and waiting for the results, these 60 youths are now in the second and final round of the selection process. During the 3-day workshop conducted by a professional trainer, these 60 candidates went through many different and exciting activities with interesting names such as "Flying Carpet", "Facing Changes", "Stepping Stones", "Traffic Jam". Fun, yet educational, these activities aim to impart and unearth different characteristics amongst the candidates such as mutual respect, perseverance, logical and creative thinking, compassion and teamwork.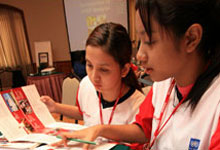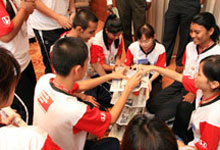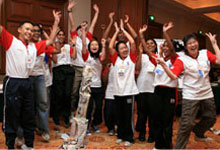 The participants enjoyed the workshop and interaction between each other was very animated. Some were quiet and shy on the first day when they came. But all got along really well and by the end of the workshop, many strong bonds and friendships had been formed.
Mr Atsushi Fujimoto, Managing Director and Chief Executive Officer of Honda Malaysia Sdn Bhd was also present at the workshop to encourage the candidates. At the welcome dinner for the candidates, Mr Fujimoto shared with the candidates the inspiration and vision behind the Honda Dreams Fund scholarship. He also encouraged the candidates to dare to dream and to work towards achieving their dreams. Mr Fujimoto reminded these underprivileged youths that they have the potential to succeed in life and to keep pursuing their dreams.
Under the guidance of the trainers and observation of representatives from United Nations Development Programme (UNDP) Malaysia as well as members of the Advisory Panel, 30 candidates were selected for the interview on April 14.
It was indeed a tough job for the panel of representatives from Honda, UNDP, SUHAKAM, AWAM and MYC as all 60 candidates portrayed great potential and were deserving. After labouring over the interviews and further discussions, the panel finally selected the final 20. These 20 scholars will be the inaugural scholars for the Honda Dreams Fund!
The Honda Dreams Fund is a joint effort between Honda Malaysia and UNDP. Honda Malaysia Sdn Bhd and UNDP Malaysia signed an MOU on January 4, 2007 to announce their pledge to less fortunate students in Malaysia with the inception of the "Human Resource Development Through Education and Training for Malaysian Youths".
The Honda Dreams Fund will be launched officially on April 25, 2007 and the 20 scholars will be introduced then.