The brand new Pre-Delivery Inspection (PDI) Centre located at Bangi, Selangor Darul Ehsan was jointly opened by Honda Malaysia and Trans-Asia Shipping Corporation (TASCO) today. The new facility costs RM8.5 million to build and covers a total site area of 7.9 acres (344,124 square feet), with capacity to handle more than 800 vehicles at any one time.
Honda Malaysia has appointed TASCO, an integrated logistics solutions provider, as its logistics partner to undertake a variety of pre-delivery technical and visual inspections prior to distributing Honda Complete Built-Up (CBU) units vehicles to respective dealers. The pre-delivery inspection procedures include installation of car accessories, maintenance, washing and polishing the vehicles to ensure that products quality meets Honda's stringent pre-delivery requirements.
The launch ceremony, held at the new centre, started off with a welcome address by master of the ceremony, followed by a speech delivered by Mr Lee Check Poh, Managing Director of TASCO.
Mr Lee said, "The setting up of a Pre-Delivery Inspection Centre clearly demonstrates Honda's commitment to provide products of the highest quality to Honda's customers. TASCO is pleased to have the opportunity to work with such an esteemed brand name. TASCO offers a wide range of highly-customised services that greatly enhanced turnaround time for Honda Malaysia."
"Outsourcing of these pre-delivery services to TASCO also gives Honda Malaysia an added advantage in terms of cost efficiency and enables consolidation of resources to concentrate on its core competency of manufacturing and increasing market share for Honda cars," he added.
Continuing on the advantages of outsourcing, Mr Lee said: "Logistics outsourcing has become an imperative function in many local and global companies due to globalisation and market liberalisation. Life cycle of products is getting shorter, hence quicker turnaround time, flexible transportations schedule, just-in-time inventory management and competitive freight rates are crucial to manufacturers and their business operations. TASCO has an established track record of 30 years in this industry and the capability to offer integrated logistics solutions at competitive pricing for all our clients' logistics needs."
Following Mr Lee's speech, Honda Malaysia Managing Director and Chief Executive Officer Mr Atsushi Fujimoto addressed the media in attendance. He said, "It is Honda's philosophy to provide our customers with products and services of the highest quality. At Honda Malaysia, we are constantly striving and committed to achieve No.1 in Customer Satisfaction. With the opening of this Pre-Delivery Inspection Centre, I believe it will help us to move one step closer to achieving this goal."
"The main task of the Pre-Delivery Inspection Centre is to put the final touches and inspect all Honda Complete Built-Up (CBU) units such as Jazz, Civic Hybrid, Civic Type R, Stream and Odyssey before they are distributed to our authorised dealers nationwide. As such, it serves a very important role in ensuring the highest standard of Honda cars are met and delivered to our customers here in Malaysia", Mr. Fujimoto added.
With the Malaysian economy expected to sustain a growth rate of approximately 6% in 2008, coupled with the implementation of National Automotive Policy and Asean Free Trade Area (AFTA), Honda Malaysia and TASCO are optimistic that the demand for passenger vehicles will remain robust in the year ahead.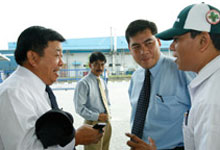 After the speeches, the Pre-Delivery Inspection Centre was officially opened by Mr Lee and Mr Fujimoto, who signed on a plaque signifying the strong partnership and working relations between the two companies. The signing was followed by confetti and fanfare symbolic of a successful partnership.
Members of the media and guests were taken for a tour at the facility after the act of launch. Everyone was awed by the size of the facility as they viewed the different sections of the centre. The launch event ended with a sumptuous lunch for all guests and media.