Honda Malaysia Ranked Highest in J.D. Power Asia Pacific 2011 Initial Quality StudySM (IQS)
Honda Malaysia Sdn. Bhd. is delighted to have received the J.D. Power Asia Pacific 2011 Malaysia Initial Quality StudySM (IQS) award recently. After receiving No.1 in Malaysia Sales Satisfaction Index (SSI) Study 2011 in September, this is yet another significant achievement for Honda Malaysia for 2011.
"We are very proud that our products have gained the trust and loyalty from Malaysia's new car owners," said Mr. Katsunori Ishii, Vice President of Honda Malaysia Sdn. Bhd. In the study, Honda City ranked highest in the entry mid-size or B Segment car for the third consecutive year with a score of 62 per 100 vehicles (PP100), an improvement of 36 PP100 from 2010.
"In line with our principles, Honda Malaysia is committed to continue offering products of the highest quality at a reasonable price for the satisfaction of our customers in Malaysia. This achievement is a strong reflection of Honda's 'Joy of Creating', which takes place at our manufacturing plant at every stage of the manufacturing process," added Mr. Ishii. There is a sense of pride and joy when the customers are happy and satisfied with the quality of the Honda car they purchased.
Now in its ninth year, the IQS study examines new-vehicle quality during the first two to six months of ownership. The IQS is one of three consumer-based studies that J.D. Power Asia Pacific conducts in Malaysia. According to the study, overall new-vehicle initial quality in Malaysia has improved notably from 2010. The study measures more than 200 problem symptoms covering eight vehicle components:
1. Vehicle Exterior

2. Driving Experience

3. Features/ Controls/ Displays

4. Audio/ Entertainment/ Navigation

5. Seats

6. Heat, Ventilation and Air Conditioning (HVAC)

7. Vehicle Interior

8. Engine/ Transmission
All problems are summarised as the number of problems reported per 100 vehicles. Lower PP100 scores indicate a lower rate of problem incidence and higher performance.
Mr. Ishii added that the Honda Plant in Pegoh would continue to focus on its long-term vision of becoming a major player in the ASEAN region by focusing on environmental-friendliness, quality and cost competitiveness, self-reliability and conduciveness. "Through this vision and commitment from Honda, we hope to add value to the nation as we strive to become a company that society wants to exist."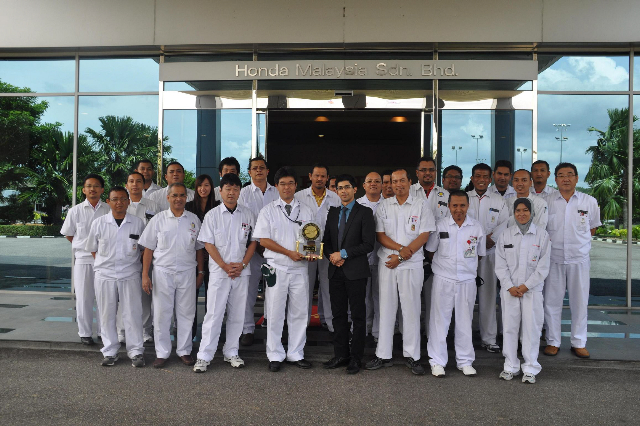 (From Left) Mr. Katsunori Ishii, vice President of Honda Malaysia received J.D. Power IQS Award 2011
from Mr. Amit Patil, Director of J.D. Power Asia Pacific, Singapore.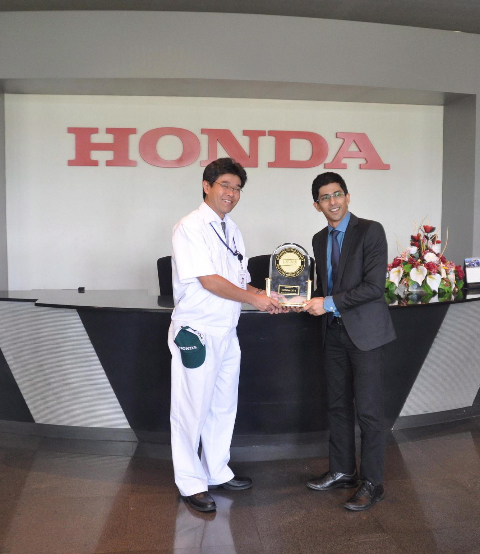 Management and Associates of Honda Malaysia Pegoh Plant with Mr. Amit Patil at
Honda Malaysia Pegoh Plant, Alor Gajah, Malacca.