Kuantan, 7 January 2014 – Macinda Auto Sdn Bhd, a Honda dealership in Kuantan has today become a full-fledged 4S Centre offering Sales, Service, Spare Parts and Spray Painting. With the opening of Macinda Auto Body and Paint Centre, Honda Malaysia now has 10 4S Centres nationwide, and it is the first in the East Coast region.
Honda Malaysia's Managing Director and Chief Executive Officer, Mr. Yoichiro Ueno said, "There is good market acceptance for Honda vehicles in the East Coast especially in Pahang; showing steady growth over the years. As the demand for Honda vehicle increases, we want to continuously provide more competitive products and excellent services."
"Honda always strive to pursue customers' satisfaction and lifetime ownership loyalty by providing excellent customer services through better facilities and multiple functions of dealerships," he added.
The new Macinda Auto Body and Paint Centre sits on 6,000 square meters of build-up land next to its Showroom and Service Centre. RM9 million was invested into this facility, of which RM1.5 million was allocated towards producing a more conducive environment for customers with services such as complimentary computer and Wi-Fi, comfortable customer lounge, shuttle service and also a dedicated kids play area. The new Body and Paint Centre will provide integrated services to Honda customers in the East Coast. With these enhancements, Macinda Auto Sdn Bhd creates a more enjoyable customer experience with more convenient after sales service to customers.
By pushing the green envelope in the automotive industry, the new Body and Paint Centre uses an eco-friendly waterborne paint. Water is the main component in the formulation of this revolutionary green paint. Without harmful solvent, this natural composition reduces pungent odours and detrimental compounds. Staying aligned to Honda's fundamental belief in quality, the unique anti-setting technology of the waterborne paint also provides better colour accuracy compared to solvent-based paints. The eco-friendly facility reduces toxic fumes and fire hazard with its waterborne formulation, hence improving the safety, comfort and health of the associates.
Honda Malaysia is targeting to have a total of 90 dealers by 2015. Since its establishment, Honda Malaysia has been working closely with its dealers to improve their services to provide a complete package of service and convenience to customers nationwide. To date, there are a total of 70 Honda Dealers in Malaysia, of which 4 are 1S Centres, 56 operate as Honda 3S Centres while 10 are 4S Centres.
Honda Malaysia believes that a life-long customer relationship is an essential basis for its business. Keeping true to this, Honda strives to implement improved policies of prioritizing customer satisfaction and ownership experiences by providing the best products and services to them.
One such example is the recent flood that hit Kuantan and many Honda customers were badly affected by the flood and their vehicles were damaged. As a company that has experienced natural disaster previously, Honda immediately responded and provided assistance and convenience to their customers. Besides the "Honda Back-On-Track" relief campaign which provided Honda customers a discount on parts that were damaged, the new Honda 4S Centre will also be able to expedite the repairs and shorten the waiting period.
To make an appointment or to find out more about the services and facilities, customers can contact Macinda Auto Body and Paint Centre at 09-5688 0000 or log on to
www.honda.com.my
for more information.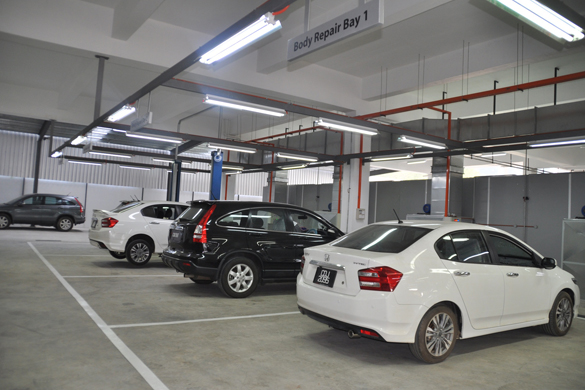 Body Repair Bays at Macinda Auto Body and Paint Centre
Macinda BP Sdn Bhd - Macinda Auto Body and Paint Centre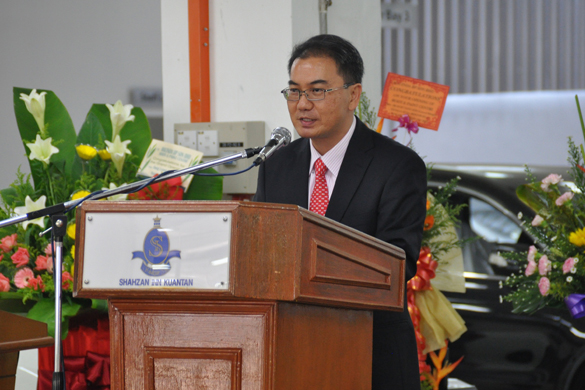 Macinda BP Sdn Bhd Managing Director, Mr Jonathan Kok
Macinda BP Sdn Bhd MD Mr Jonathan Kok explaining the Frame Aligner system to Mr Yoichiro Ueno and Encik Roslan Abdullah