Petaling Jaya, 5 May 2014 – Honda Malaysia today announced that the class-leading 4th Generation CR-V has achieved 5-Star rating in a recent ASEAN New Car Assessment Programme for Southeast Asia countries (ASEAN NCAP) crash test. Achieving a 5-Star rating, the CR-V retains its position in setting the benchmark as a Premium Smart SUV with a comprehensive set of safety features.
The results were announced today at the 2014 Global NCAP Forum in Melbourne, Australia. An award ceremony was also held simultaneously in Malacca today. The offset frontal collision test were conducted at a closing speed of 64 km/h where the CR-V achieved 5-Star rating in the Adult Occupant Protection (AOP) and 86% in the Child Occupant Protection, which is highest compared to previous phase crash test. The previous Generation City achieved 81% while the Civic achieved 82% in the Phase I and Phase II crash test respectively.
The CR-V is equipped with a complete set of safety features. Its body structure is G-force Control Technology (G-CON) compliant which works to disperse impact away from cabin in the event of an accident, while the Advanced Compatibility Engineering (ACE) absorbs the impact energy to reduce injuries significantly. All Honda models sold in Malaysia are equipped with G-CON compliant body construction, which has been designed to a higher standard than mandated by Euro NCAP. The 4th Generation CR-V includes a new safety feature, the Motion Adaptive Electronic Power Steering (MA-EPS) that works with Vehicle Stability Assist (VSA) to help minimize under steering and over steering while at the same time enhance stability during driving.
The CR-V is also fitted with Electronic Brake Force Distribution (EBD), Anti-lock Braking System (ABS), Side Curtain Airbag System (for 2.4L variant), Dual Front SRS airbags and side airbags with Occupant Position Detection System (OPDS). The Occupant Position Detection System (OPDS) utilizes sensors in the front passenger's seatback to detect the height and seating position of the occupant. If a child or small-sized adult is in the deployment path of the side airbag, sensors deactivate it. The car also comes with Front Pre-Tensioner Seatbelts with Load Limiters, 3-Point Rear Seatbelt for 3 persons, ISO FIX child seats and Immobilizer System.
Additionally, the CR-V also passed the side impact test (UN R95). In fact, all Honda models have gone through vigorous testings for frontal, side and rear crash at Honda's own internal crash lab. This is a strong reflection of Honda's commitment in providing safety for everyone—that means crash protection not only for its own drivers and passengers, but also for the occupants of other vehicles and injury mitigation for pedestrians. Honda is dedicated in identifying as well as implementing advanced designs and features that will help to enhance the safety of vehicles on the road.
Since its launch in March 2013, the 4th Generation CR-V has sold more than 10,600 units as at 30 April 2014. To date, there are more than 48,000 units of CR-V in Malaysia. Honda Malaysia is confident that the CR-V will continue to retain its position as market leader in the SUV segment. Furthermore, responding to market feedback, all CR-V from now on will be fitted with reverse sensors in addition to the existing reverse camera.
The result reaffirms the reputation of the CR-V as one of the safest SUV in its segment. Safety remains as Honda's top commitment and priority and the company have proactively complied with all the new safety regulations. Honda continues to set the benchmark in safety by looking beyond government regulations, studying real world situations to develop new safety technologies for everyone.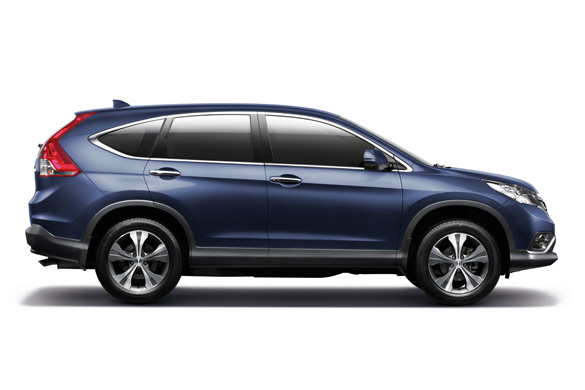 CR-V Premium Smart SUV with a comprehensive set of safety features.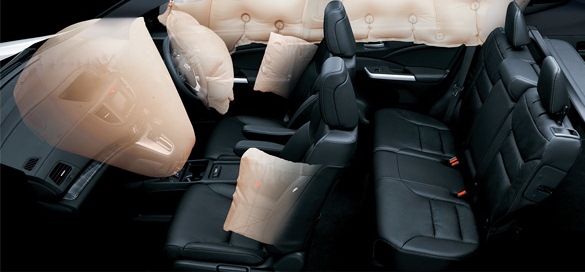 Dual Front SRS airbags and side airbags with Occupant Position Detection System (OPDS)