Kah Motor Selayang leads the way with high value facilities to deliver premium services

Honda Malaysia targets to have all dealerships sporting new CI by 2016
Selayang, 12 May 2014 – Honda Malaysia Sdn Bhd today officially opened its dealership in Selayang and simultaneously, marked the start of Honda's new dealership Corporate Identity (CI) across all its dealership in Malaysia. Kah Motor Selayang is the first dealer to adopt the high value facilities under the new Honda CI to provide premium services to customers.
Honda Malaysia's Managing Director and Chief Executive Officer, Mr. Yoichiro Ueno said, "The objective of the new Honda CI is to provide an overall sales and after-sales experience that exceeds customers' expectations by providing the best facility in the region. Ultimately, the aim is to be the benchmark for automotive retail while maintaining the highest operational standard."
Customers are the main focus under the introduction of the new Honda CI. Their convenience, comfort and overall experience is key and Honda Malaysia hopes to continue to gain customers' satisfaction in every aspect through supreme facilities, increased productivity and a more modern look.
The redesign of the Honda dealership focuses on three main areas of Facade and Exterior, Interior, and Service Bays.
The Facade and Exterior now sports a modern look with its new design and colour scheme. The new, neat layout of the Honda dealership is made distinct through four elements i.e. Showroom Display, Feature Car, New Car Delivery and Service Reception. At the same time, low energy lighting and water conserving features have been incorporated into the design in line with Honda's environmental efforts.
In the Interior of the dealership, comfort, functionality and accessibility for customers are the main focus through the implementation of new features such as Customers Lounge and Bar, Kids' Corner and Nursing Room, and Executive Work Lounge. The new layout also creates a common area for both Sales and Service customers, giving rise to greater openness and accessibility in customer areas. Customers can enjoy a more conducive environment during the enquiry, negotiation and delivery processes with this contemporary layout.
Meanwhile, productivity is increased in the Service Bays through redesign that keeps customer car movement to a minimum. The colour scheme for bays and driveways are also refreshed, sporting a premium appearance for the dealership.
"Kah Motor has been synonymous with the Honda brand in Malaysia since the 1960s. Their trust and belief in Honda has grown from strength to strength over 6 decades. In the automotive dealership industry in Malaysia, Kah Motor has proven to be a visionary dealership. I applaud their commitment to constantly strive to deliver the best customer experience, while constantly pushing boundaries to set the benchmark in dealership," Ueno added.
The new Kah Motor Selayang dealership sits on 157,000 square feet of total land area. RM30 million was invested into this Honda 3S Centre; the amount included land acquisition, building, facilities and equipment.
The new dealership also features 28 service bays with hoists to accommodate up to 140 cars per day. This includes Fast Service and Tyre Service. With the new CI enhancements, Kah Motor Selayang hopes to attract more customers to their dealership and providing them an enjoyable customer experience.
The recent record breaking sales that Honda Malaysia registered - 10,000 units of the All-New City within one month of its launch and recently, April recording the highest monthly sales at 6,916 units - also demand that Honda dealers up their standards in their sales and after-sales service quickly. Towards this end, Honda Malaysia targets to have all dealerships adopting this new CI by 2016.
Honda Malaysia is targeting to have a total of 90 dealers by 2015. Since its establishment, Honda Malaysia has been working closely with its dealers to improve their services to provide a complete package of service and convenience to customers nationwide. To date, there are a total of 75 Honda Dealers in Malaysia, of which 71 are 3S Centres and 4 are 1S Centres.
To make an appointment or to find out more about the services and facilities, customers can contact Kah Motor Selayang at 03-6185 1888 or log on to www.honda.com.my for more information.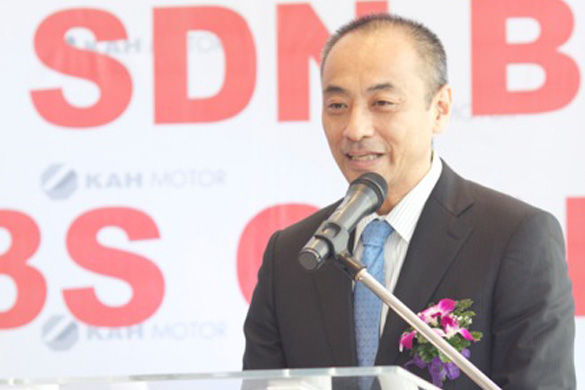 Honda Malaysia MD and CEO Mr. Yoichiro Ueno
Oriental Holdings Bhd Deputy Chairman Dato Loh Kian Chong shaking hands with Honda Malaysia MD and CEO Mr. Yoichiro Ueno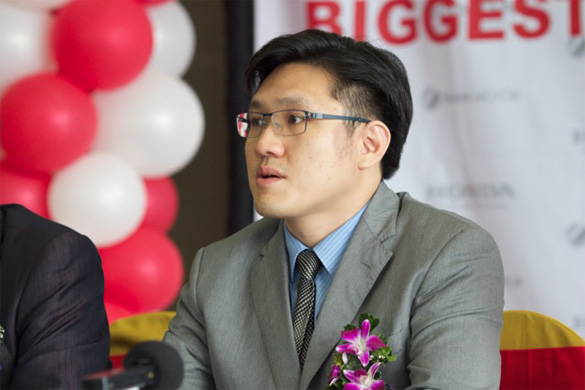 Oriental Holdings Bhd Deputy Chairman Dato Loh Kian Chong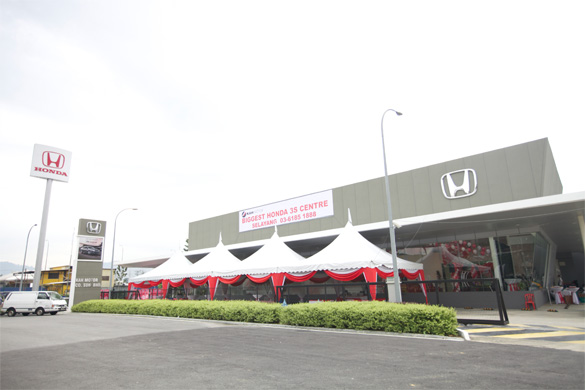 The New Kah Motor Selayang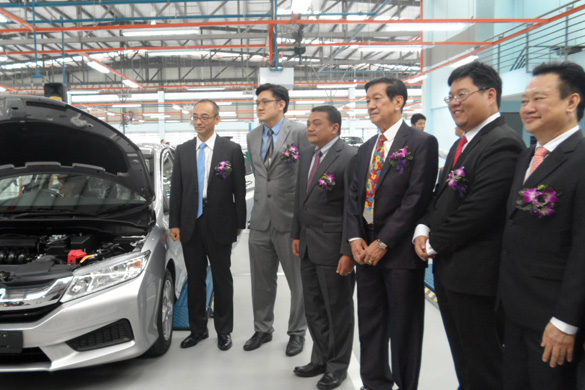 VIPs in the Service Area