Prices for the 3rd Generation Jazz starts at RM72,800

Honda Malaysia targets to sell 1,200 units of the All-New Jazz monthly
Kuala Lumpur, 16 July 2014 – Honda Malaysia sprung a surprise for all Malaysians today with the launch of the versatile and affordable All-New Jazz! The 3rd Generation Jazz will continue to be the game changer in the compact hatchback segment with its highly-valued package of versatility, functionality and affordability.
First introduced in 2001, both the first and second generations quickly set the benchmark in the hatchback segment. These models were so successful and popular worldwide that the total global sales reached 5.2 million units and became the top selling model among all Honda's line-up. In Malaysia, since its introduction in 2002, the Jazz has sold 30,573 units to-date.
Seeing its huge potential, Honda Malaysia made a strategic decision to locally assemble the Jazz Hybrid and Jazz Petrol. Both the CKD models were well accepted and has sold almost 13,000 units in less than 2 years.
Being a global model, the All-New Jazz was developed with the goal of being the "World's Best Functional Compact". In developing the All-New Jazz, the Honda R&D team targeted to redesign the Jazz to be Surprisingly Versatile and Spacious; Innovative in Technology and Connectivity Features; and Class-leading in Design and Performance.
Speaking at the launch ceremony, Honda Malaysia Managing Director and Chief Executive Officer, Mr. Yoichiro Ueno said, "The All-New Jazz is set to capture the hearts of customers who demand for a car that is fun yet versatile and functional to meet the needs of their multi-faceted lifestyles. The All-New Jazz comes in an appealing package that is ideal for many Malaysians, from college students and young executives to married couples and families. The All-New Jazz is perfectly suited for any life scenario: work, leisure, sports, shopping and travelling. This Jazz is truly Honda's most stunning Jazz to date".
"The All-New Jazz will provide the best overall value package in its segment with the 3 variants (S, E and V) that we are introducing. This broad range is in line with our commitment to provide affordable products with excellent value for money for everyone. This would be a great opportunity for all Malaysians to own a Honda!" added Mr. Ueno.
The All-New Jazz carries Honda's new design identity, the "Exciting H Design!!!" which makes the car look bold and sporty. Its exterior design concept of "Crossfade Monoform Exterior" is dynamically advanced while inheriting the characteristics unique to Jazz. It combines a sporty and dynamic cabin with a substantial lower body, emphasizing width and stability.
The All-New Jazz is powered by the improved 1.5L SOHC i-VTEC engine which works seamlessly with the newly designed CVT which was developed under Honda's Earth Dreams Technology. Honda's new global subcompact platform with a lightweight yet rigid structure further pushes the Jazz to new limits that emphasizes fuel efficiency without sacrificing dynamic performance.
What differentiate the All-New Jazz the most is its highly functional and versatile interior, which is translated from Honda's "Man Maximum, Machine Minimum" philosophy. The innovative central fuel tank remains, cabin space is bigger, weight is lighter, wheelbase is longer and its much-loved Versatile Magic Seats with four configuration modes are better than ever! As a result, The All-New Jazz has a larger cabin space with a substantial increase in passenger space, shoulder and rear leg rooms, as well as cargo space providing comfort ahead of its class.
The All-New Jazz is equipped with advanced and intuitive innovations and connectivity features that add to its fun-to-drive element. It is the first car in its segment to be equipped with an Advanced 7 inch Display Touch Audio with MirrorLink function (V variant). It also includes a Multi Information Combination Meter, Touch Panel Automatic Air Conditioning (V Variant) and Smart Entry with Push Start Button (E & V variant). The multi-function steering wheel features the advanced Hands Free Telephone Control (V variant) and Voice Recognition Control (V variant), providing convenience at the driver's fingertips.
As with all Honda models, safety is a top priority for the All-New Jazz. The All-New Jazz is equipped with more enhanced safety aspects that include 6 Airbags (V variant; including Dual Front SRS Airbags, Side Airbags and Side Curtain Airbags), Emergency Stop Signal (E & V variant), Vehicle Stability Assist (VSA) (E & V variant), G-CON body and ISO Fix. Mr. Ueno also announced that the All-New Jazz went through the ASEAN NCAP Crash Test last week and is confident that it will achieve a 5-Star safety rating.
All 3 variants are available in five colors: New Tinted Silver (new colour to coincide with the All-New Jazz), Brilliant Sporty Blue Metallic, Taffeta White, Crystal Black Pearl and Modern Steel Metallic.
Honda Malaysia offers a 5-year warranty with unlimited mileage and service interval is 10,000 km, providing additional reasons for customers to make the Jazz the vehicle of their choice. With a total of 76 authorized dealers nationwide, Honda customers can rest assured that their cars will be taken care of with quality services.
Honda Malaysia targets to sell 1,200 units of the All-New Jazz per month. Honda Malaysia believes that the premium features, advanced technologies and price range of the All-New Jazz will interest a wide range of audience in Malaysia and propel the Company to achieve its 2014 targeted sales of 76,000 units. During the 1st Half of 2014, Honda Malaysia has managed to sell 37,178 units, a 70% increase compared to the same period last year.
For more information on the All-New Jazz or to book a test drive, visit any Honda dealers nationwide or please call Honda's Toll Free number at 1-800-88-2020 or log on to
www.honda.com.my
(L-R) Mr. Yoichiro Ueno and Mr. Daisuke Uragami, Assistant Large Project Leader of All-New Jazz.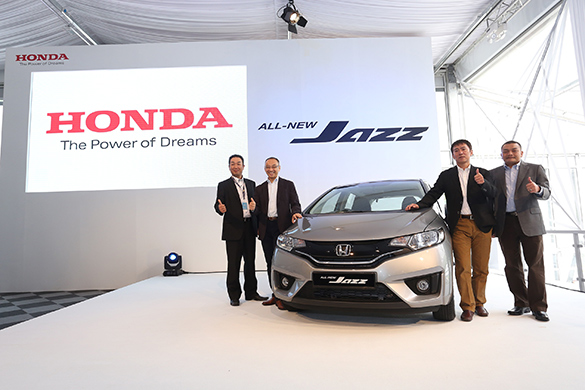 (L-R) Mr. Yoshihiro Suematsu, Vice President of Honda Malaysia, Mr. Yoichiro Ueno, Mr. Daisuke Uragami and En. Roslan Abdullah, President & Chief Operating Officer of Honda Malaysia.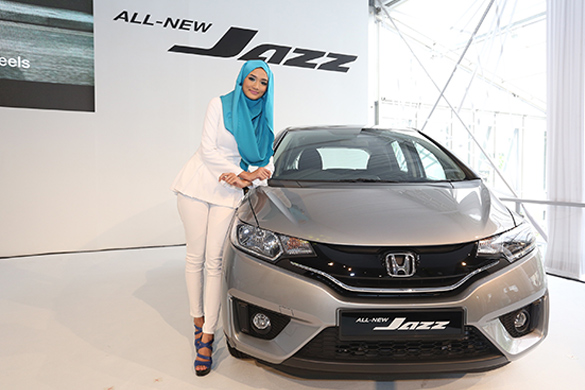 Honda Malaysia targets to sell 1,200 units of the All-New Jazz monthly.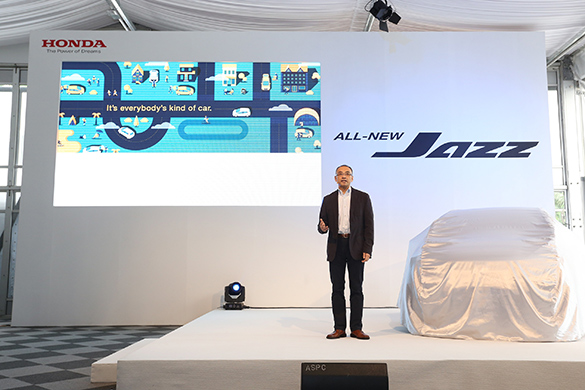 Mr. Yoichiro Ueno, Managing Director & Chief Executive Officer of Honda Malaysia during his speech.
Prices for the 3rd Generation All-New Jazz starts at RM72,800.