Sepang, 4 December 2014 – Honda Malaysia Racing Team (HMRT) announced today that there will be 3 race cars with a total of six drivers, for the upcoming Sepang 1000km Race (S1K) this weekend. Besides the City and the All-New Jazz, the 3rd race car that will be joining the 2014 S1K race is last year's race machine which is the 2nd Generation Jazz.
"Our long term goal for HMRT is to equip Honda associates with the knowledge and skills to become race drivers and ultimately be able to challenge and win races. This year, we took a step forward by increasing the number of cars in order to provide Honda associates the opportunity to explore and develop their racing skills. I am pleased to welcome Jeff Tan Zhong Zheng and Mohd Henzee Hamzah, both full time Honda associates, into the team." said HMRT Team Director Mr. Akkbar Danial.
Both Jeff Tan and Henzee Hamzah will be racing for the first time in the S1K race. They will race with the 2nd Generation Jazz, Car #25 which will be retaining its color (Taffeta White). The car has undergone mild engine mapping for extra horsepower and torque to match the performance of the newly developed City and All-New Jazz as well as to maintain its competitiveness on the track.
Jeff Tan who has two years' experience racing in the local motorsports scene started off in HMRT as part of the technical crew. Sharing about his experience in HMRT, Jeff Tan said "I have been part of HMRT for 3 years but my roles have always been on the technical side. This would be my first year in the team as a team driver and it is indeed an honor to be given such a responsibility. I have been preparing myself both mentally and physically with the help of our existing professional drivers. The team has been very supportive in sharing their knowledge and skills. I believe with the support given, I can deliver my best and hopefully meet the expectations of the team for the S1K race."
The additional list of HMRT drivers also include a young professional driver, Alif Mohamad Hamdan who comes with six years of international motorsports experience.
The complete list of drivers and their race machines are summarized below:
Alif Mohamad Hamdan

Car #26
City

(Brilliant Sporty Blue Metallic)

Professional Driver

New driver

Mohd Farriz Fauzy

Internal HMSB Driver

Returning driver

Eddie Lew

Car #27
All-New Jazz

(Taffeta White)

Professional Driver

Returning driver

Aaron Lim

Professional Driver

Returning driver

Jeff Tan Zhong Zheng

Car #25
2nd Gen Jazz –

2013 Race Car

(Taffeta White)

Internal HMSB Driver

New driver

Mohd Henzee Hamzah

Internal HMSB Driver

New driver
"With the new race machines, our immediate objective is to ensure that we achieve last year's time on track. The team has put in a lot of effort and hard work in preparing for this race and I strongly believe it is possible not only to achieve last year's timing, but to also retain the S1K championship. In fact, it would be fantastic to see an all-Honda podium finish!" added Mr. Akkbar.
Honda's DNA in motorsports is further displayed through commitment in building up HMRT and participating in races like S1K. The HMRT will continue pushing boundaries and embrace the challenging spirit towards excellence in future motorsports races.
HMRT Race Machines – All-New Jazz, City and 2nd Gen Jazz (L-R)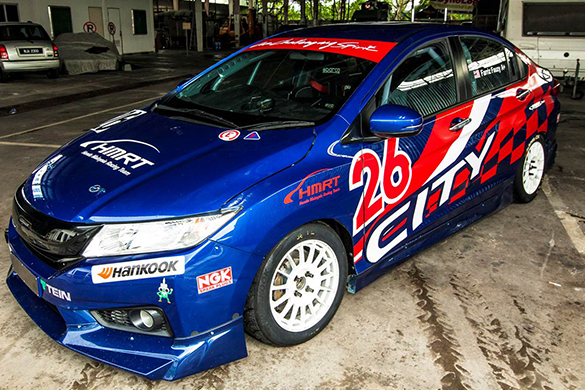 City (Car #26)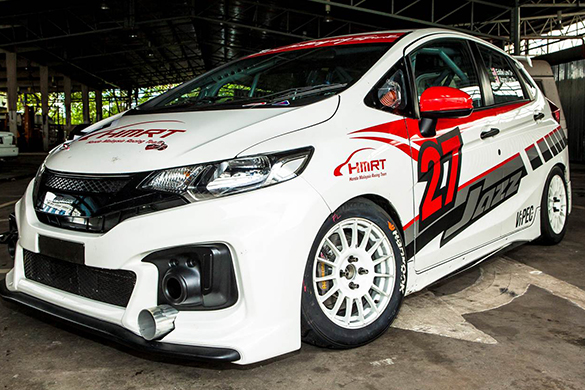 All-New Jazz (Car #27)
2nd Gen Jazz (Car #25)