Petaling Jaya, 21 January 2015 – Honda Malaysia begins the year on a promising note with the introduction of the New CR-V (Comfortable Runabout Vehicle). Set to meet the growing SUV market, the New CR-V now comes in three variants, with the addition of the 2.0L 2WD.
The CR-V was first introduced to the market in 1995 and has garnered more than 130 awards worldwide with the latest being the Crash Worthiness Performance Award during the first ever ASEAN NCAP Grand Prix. Since its debut in 2001 in Malaysia, the CR-V has been well-received and is one of the most sought after SUVs with more than 52,000 units sold. The fourth generation CR-V is the No.1 selling SUV in Malaysia with total sales of more than 14,700 units since its launch in March 2013.
Honda Malaysia Managing Director and Chief Executive Officer, Mr. Yoichiro Ueno said, "The SUV segment has shown significant growth over the years and SUV buyers have expanded from the traditional family to single and outgoing adults. Based on market feedback, we found that there is a bulging demand for 2-Wheel-Drive-SUVs. Reflecting this demand in our line-up, we are implementing the 2.0L 2WD variant for the New CR-V."
The new 2.0L 2WD variant will provide more options to active achievers and young urban families who want to own an outstanding SUV that is bold in looks, comfortable in ride and efficient in fuel consumption.
Designed under the concept of 'Value Up CR-V', the New CR-V maintains key features from its predecessor to offer more comfort interior-wise, more confidence with a strong yet elegant styling, and class-leading spaciousness.
The new 2.0L 2WD variant shares the same powertrain as the 2.0L 4WD (SOHC i-VTEC; 155PS and 190Nm) which is mated to a 5-speed Automatic Transmission to provide the perfect balance of fuel efficiency and performance. The difference in drivetrain in the 2WD offers better fuel efficiency. To further enhance the fuel consumption, all variants comes standard with an ECON Mode Switch Button to further increase fuel efficiency.
The New CR-V is designed to look bolder and tough with a striking design and a streamlined body. Highlighting bold, aggressive and sporty sentiments, the New CR-V comes with 2-tier front grille with chrome accents as well as new front and rear bumpers for a solid outlook.
Interior wise, the New CR-V has numerous changing points completed with silver coating and chrome plating finishing for a sleek and premium feel. The New CR-V 2.0L 2WD has numerous features such as Smart Entry with Push-Start Button, LED Daytime Running Lights and 8-way driver power seats to provide convenience to the driver. The class leading spaciousness of the New CR-V provides comfort in terms of headroom and also legroom for both passengers and the driver. Furthermore, the cargo space area can be increased dramatically from 589 liters to 1,146 through the One-Motion Rear Foldable Seats.
The New CR-V is once again leading its segment in safety with an advanced safety technology feature known as the Honda LaneWatch (2.4L 4WD) - the first model in its segment to have this feature. This new technology enhances the driver's view of passenger-side traffic, and allows the driver better view when compared with using the side mirror alone. This addition helps improve the overall driving experience while providing the driver an uncompromising sense of security and confidence while driving. The New CR-V will also be equipped with the highest safety specifications across all variants such as Vehicle Stability Assist (VSA), Emergency Stop Signal, Hill Start Assist, and 6 Airbags (2.4L 4WD) (2.0L 2WD and 2.0L 4WD – 4 Airbags) to further strengthen its position as the safest SUV in the market. Furthermore, customers can drive securely and in confidence knowing that the CR-V was awarded 5-Star rating by the ASEAN NCAP when it was tested last year.
Mr. Ueno said, "We are confident that the New CR-V will meet the needs of current and new SUV owners and we believe it will continue to lead the SUV market segment and enable Honda to achieve our challenging sales target this year."
The New CR-V is available in five colours – Modern Steel Metallic, Taffeta White, Twilight Blue Metallic, Alabaster Silver Metallic and Crystal Black Pearl.
Honda is also offering four attractive accessories packages for the New CR-V that combine interior and exterior enhancements. The packages start at an affordable price of RM2,650.
Honda Malaysia offers a 5-year warranty with unlimited mileage and service interval of 10,000km. Additionally, customers can enjoy free labour service of up to six visits for every alternate paid service, until 100,000km for this New CR-V at all 77 dealerships nationwide.
For more information on the New CR-V, please visit a Honda showroom or call Honda's Toll Free number at 1-800-88-2020 or log on to
www.honda.com.my
.
Models with the New CR-V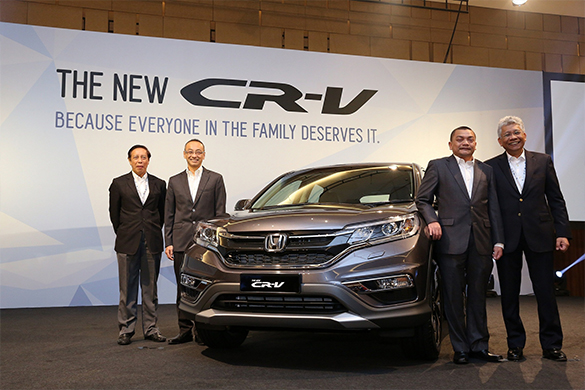 (L-R) Honda Malaysia Sdn Bhd and DRB-HICOM VIPs with the New CR-V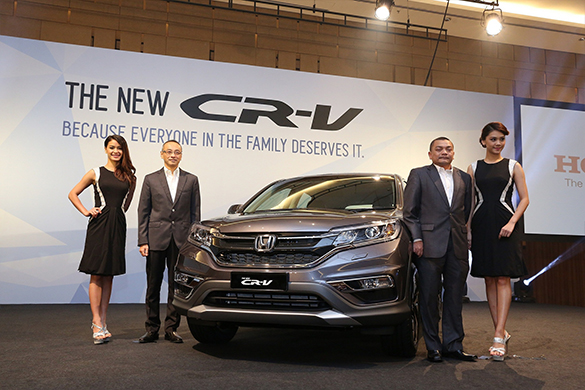 (L-R) Managing Director and Chief Executive Officer of Honda Malaysia, Mr. Yoichiro Ueno,
with President and Chief Operating Officer of Honda Malaysia, Encik Roslan Abdullah, and models posing with the New CR-V
(L-R) Managing Director and Chief Executive Officer of Honda Malaysia, Mr. Yoichiro Ueno,
and President and Chief Operating Officer of Honda Malaysia, Mr. Roslan Abdullah, with the New CR-V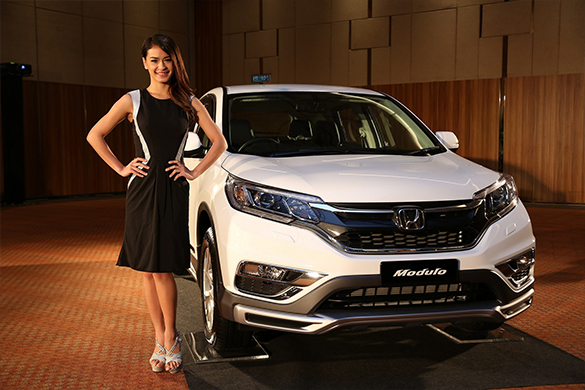 Model posing with the New CR-V in Taffeta White with Modulo Kit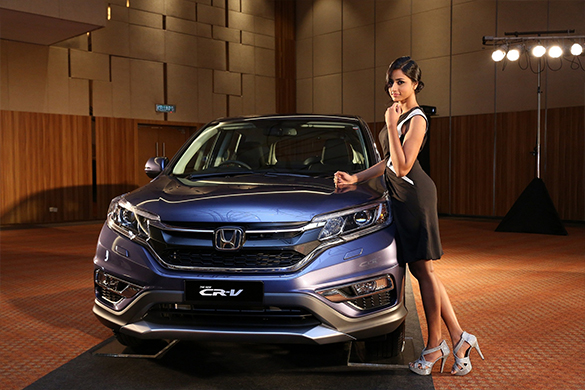 Model posing with the New CR-V in Twilight Blue Metallic