Kuala Lumpur, 1 April 2015 – Honda Malaysia Sdn. Bhd. (Honda Malaysia or the Company) today shared an update on the Company's performance and announced the changes of pricing for its vehicles upon Goods and Services Tax (GST) implementation. The Company also shared its 2015 strategy to further strengthen its business here in Malaysia.
Managing Director and Chief Executive Officer of Honda Malaysia Mr. Yoichiro Ueno said, "Moving forward in 2015, the forecasted TIV is 697,000 units with a 4.6% growth. Our sales target for this year is 85,000 units and we have entered 2015 on a high note."
So far, Honda Malaysia has launched two new models this year, the New CR-V and the All-New HR-V. The highly anticipated and welcomed All-New HR-V received more than 10,000 units of bookings since it's launched which have resulted in a long waiting period. The company will be maximizing the production of the HR-V in order to shorten the waiting period. The New CR-V and All-New HR-V currently leads the SUV segment, followed by City, Jazz, Civic, and Accord being the market leaders in their respective segment for the months of January and February 2015.
Besides providing quality products, Honda Malaysia also shared their 2015 objective which is to offer "Total Excellence" in both products and services with key plans to expand dealer network, enhance quality of service and offer more innovative activities in order to achieve customer satisfaction.
Currently Honda has 75 3S outlets, 4 1S showrooms and 12 Body and Paint (BP) centers in its dealer network. In order to meet the increased number of customers, Honda will be establishing an additional 11 3S outlets and 5 BP centers, which will bring the total number of dealerships to 90 and 17 BP centers by the end of the year. Furthermore, New Concept Gallery Showroom will be opened in Bangsar, Bukit Bintang, Ampang and Penang. The new Dealer CI that was introduced last year will be implemented to existing dealers to offer the best comfort and convenience to the customers. In order to provide equal services to all customers in Malaysia especially in suburban and East Malaysia areas, Honda also announced that new 3S dealerships will be opened in those areas such as Pontian, and Teluk Intan on top of satellite service centers.
Honda also shared their plans for East Malaysia which will be one of their focus area in 2015. Honda has identified that its market share is high in capital cities and metropolitan areas, but relatively low in suburban areas and East Malaysia. Mr. Ueno added "The recent economic growth in East Malaysia has been significant and we believe that there is a now a huge potential for Honda to expand our business there." To support and strengthen the operations in East Malaysia, Honda will be looking to strengthen their operations by setting-up a regional office, training facilities, distribution center and parts warehouse.
In conjunction with the implementation of 6% Goods and Services Tax (GST) which will replace the 10% Sales and Services Tax (SST) effective 1st April 2015, Mr. Ueno shared about its implications towards Honda's business. "In the automotive industry, the difference in the car prices is not as straightforward as 10% minus 6% as there are many factors involved. The main difference in the tax calculation is the difference in the taxable base for SST and GST. For example, the SST was based on the distributors value of the car and is then charged 10% tax excluding dealer margins, transportation cost, handling fee, accessories and other miscellaneous distribution cost while GST is charged based on the final selling price of the car on the road."
Honda Malaysia announced that Honda's Completely Knocked Down (CKD) models namely Jazz, City, Civic, CR-V, Accord and HR-V will reflect a decrease in price, ranging from **RM500 up to RM2500. The difference in price reduction is due to the difference in features and accessories which will result in different prices for each model and variant. Overall, the savings from the GST will be passed down to Honda's customers which results in lower car prices for their CKD models.
However, the Odyssey which is a Completely Built Unit (CBU) model will experience a slight increase in price of between
**RM500 – RM1000.
Mr. Ueno added, "The price of our spare parts will also be reduced by an average of **3.7% across all models. GST will be added to the labor charge. However, due to the reduction of the spare parts price, we estimate that the total maintenance cost will be reduced by **2% - 4% depending on the model."
Honda Malaysia believes that the Company can continue the momentum from last year. With the strong economy in Malaysia and hopefully a stable market after the GST introduction, Honda is confident that the company will be able to achieve its 2015 sales target and make an impact in the future growth of Honda in Malaysia.
**Effective 01 April 2015
Price subject to change without prior notice
Mr. Yoichiro Ueno – Managing Director & Chief Executive Officer of Honda Malaysia Sdn. Bhd. during his speech session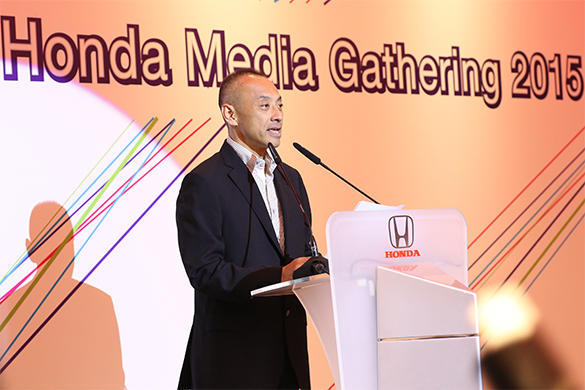 Honda Malaysia MD & CEO Mr.Yoichiro Ueno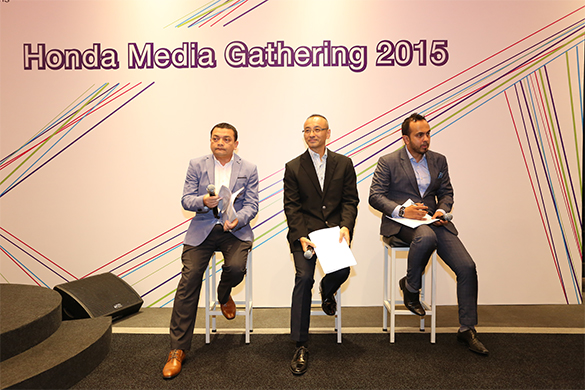 L-R : Honda Malaysia President & Chief Operating Officer En. Roslan Abdullah,
Managing Director & Chief Executive Officer Mr.Yoichiro Ueno,
Vice President of Marketing Division Mr. Akkbar Danial