Malacca, 6 August 2015 – Honda Malaysia Sdn. Bhd. (Honda Malaysia or the Company) today officially opened its new Pre-Delivery Inspection (PDI) Yard 3 at its Pegoh Plant, Malacca.
Honda Malaysia invested RM15.1 million towards the construction of PDI Yard 3 which was built on 50 acres of land directly opposite the Pegoh Plant. The PDI Yard 3 is able to accommodate 6,000 units of vehicles and will function as the centralized delivery centre for new vehicles.
Managing Director and Chief Executive Officer of Honda Malaysia Mr. Yoichiro Ueno shared, "In January last year, we opened the No. 2 Line which puts us on the path towards achieving our mid-term goal of doubling our production capacity to 100,000 units by 2016. In July 2014, we made a strategic decision to construct the new PDI Yard 3 in order to speed up the vehicle delivery process in support of the increase in production and sales volume. The capacity for PDI Yard 3 is increased by 56% compared to the combined capacity of PDI Yards 1 and 2. The existing Yard 1 and Yard 2 will be used for receiving new vehicles, installing accessories as well as inspecting vehicle interior and exterior."
In order to ease the transportation process of vehicles to PDI Yard 3, Honda Malaysia invested another RM7.1 million towards the construction of an Overhead Link Bridge. The bridge will be used to transport the vehicles from PDI Yard 1 to Yard 3 and is expected to reduce transportation time. It is also the first vehicle overhead bridge in Alor Gajah.
Mr. Ueno added that the completion of PDI Yard 3 will play an important role for Honda Malaysia to achieve its 2015 sales target of 85,000 units. As at the end of June 2015, Honda has achieved 51% of the annual sales target, capturing 13.5% market share. The Company also leads in the Non-National Segment.
"I am pleased to announce that with the opening of PDI Yard 3, we are now able to support and speed up the delivery process of vehicles to Honda dealers nationwide. Our dealer network is also growing in tandem with the increase in production. All of Honda's three initiatives; the No. 2 Line, new PDI Yard 3 and a strong dealer network will work together towards providing better efficiency in delivering Honda vehicles to customers," said Mr. Ueno.
Honda Malaysia remains its strong commitment to meet customers' expectations by producing innovative products while supporting the development of the local automotive industry.
From L-R : Mr Yoshihiro Suematsu, Group Director of HMSB; Mr Yoichiro Ueno, MD & CEO of HMSB;
YBhg Datuk Haji Murad Bin Haji Husin, Yang DiPertua Majlis Perbandaran Alor Gajah; En. Auzir Ghazalee, Head of PDI;
En Roslan Abdullah, President & COO of HMSB; Ms. Jahabarnisa Mohiddeen, GM Head of Sales of HMSB;
En. Akkbar Danial, Vice President, Group Head of Marketing & Dealer Development of HMSB;
En Zainul Adnan, Secretary of MPAG (Majlis Perbandaran Alor Gajah).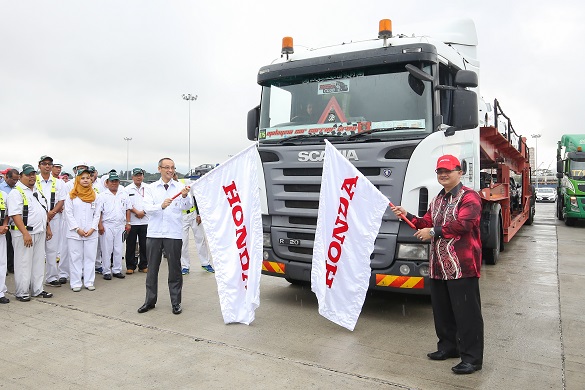 Mr Yoichiro Ueno, MD & CEO and YBhg Datuk Haji Murad Bin Haji Husin,
Yang DiPertua Majlis Perbandaran Alor Gajah officially launched Honda Malaysia PDI Yard 3
The PDI Yard 3 is able to accommodate 6,000 units of vehicles and will function as the centralized delivery centre for new vehicles
Managing Director and Chief Executive Officer of Honda Malaysia Mr. Yoichiro Ueno
YBhg. Datuk Haji Murad Bin Haji Husin, Yang DiPertua Majlis Perbandaran Alor Gajah officiated the official opening of PDI Yard 3
YBhg. Datuk Haji Murad Bin Haji Husin,Yang DiPertua Majlis Perbandaran Alor Gajah,
Encik Roslan Abdullah, President and Chief Operating Officer, Mr. Yoichiro Ueno, MD & CEO