Petaling Jaya, 2 October 2017 – Honda Malaysia today announced that the New Jazz Sport Hybrid i-DCD and New City Sport Hybrid i-DCD have recorded 1,200 bookings as of 30 September 2017.
Customers' strong support for Honda Malaysia's promise of delivering 'Tomorrow's Technology, Today's Reality' has translated to the impressive booking numbers for the two models, achieving their combined sales target of 3 months in just 2 months. The New Jazz Sport Hybrid i-DCD and New City Sport Hybrid i-DCD opened for bookings about two months ago, at the end of July 2017, with a monthly sales target of 150 units and 250 units respectively.
This good market acceptance was shared between both models, with the New City Sport Hybrid i-DCD having a higher demand at 61% of the total bookings received. The Sport Hybrid i-DCD technology is more popular with customers in the Central region with total bookings percentage of 53%. To date, Honda Malaysia has sold more than 500 units of New City Sport Hybrid i-DCD and 330 units of New Jazz Sport Hybrid i-DCD. The recorded sales has enabled Honda Malaysia to regain the lead position in terms of market share of the Hybrid segment among Hybrid vehicles below RM200,000, for the past 2 months.
The high demand for the New Jazz Sport Hybrid i-DCD and New City Sport Hybrid i-DCD is mainly due to the many great offerings especially the sporty driving feel that gives an enjoyable drive without compromising on fuel efficiency or spaciousness. Despite the high number of bookings, Honda Malaysia has assured that the waiting period is still at standard 1 to 2 months.
Honda Malaysia is the pioneer in introducing Malaysians to hybrid technology back in 2004, officially bringing in the country's first Hybrid model - a Civic Hybrid, and launching the second generation Civic Hybrid in 2007. Honda Malaysia continued to spearhead Hybrid introduction in Malaysia when it became the first manufacturer to locally assemble the Jazz Hybrid in 2012. This move also saw Malaysia becoming the third country after Japan and the United States to produce Hybrid vehicles locally.
Reestablishing its position in the Hybrid segment, Honda Malaysia launched the Sport Hybrid i-DCD, an improved Hybrid technology with the New Jazz Sport Hybrid i-DCD and New City Sport Hybrid i-DCD. These two new hybrid models made history during their introductions as Malaysia is the only country to introduce models with Sport Hybrid i-DCD outside of Japan, where close to 865,000* vehicles equipped with the system have been sold in Japan. This introduction is in line with Honda Malaysia's strategy of offering more Advanced Technology to customers.
Both the New Jazz Sport Hybrid i-DCD and New City Sport Hybrid i-DCD are powered by a new 1.5L DOHC i-VTEC engine that combines 7-Speed Dual Clutch Transmission with Integrated High Power Motor to promote superior acceleration. The engine and Integrated High Power Motor allow the engine to deliver up to 137PS horsepower and 170Nm torque that is equivalent to a 1.8L engine to provide an exhilarating driving performance, to meet demands of drivers who like sporty driving, especially in combination with the New Jazz Hybrid Sport i-DCD's Sport Mode or New City Sport Hybrid i-DCD's Paddle Shift.
It also has EV mode drivability with an independent positioning and function of both motor and engine to assist in fuel efficiency by sustaining regenerative energy and maintaining good fuel performance while still giving a sporty ride.
The Intelligent Power Unit of the Sport Hybrid i-DCD comes with a new Lithium-Ion battery that is lighter while having higher capacity to deliver two times the output compared to the previous Nickel battery. This new Lithium-ion battery can power the fully electric driven compressor on its own, allowing the vehicle's air conditioning to function and maintain cabin temperature even at idle stops.
The New Jazz Sport Hybrid i-DCD and New City Sport Hybrid i-DCD offer the same features as the E variant of the respective models, and with additional enhancements for occupants to enjoy the sporty performance of the powertrains as well as interior comfort in the improved quietness of the cabin. These enhancements include a Shift-By-Wire Gear that gives a quicker and more responsive experience to the driver for a smoother ride during gear transitions, and the 3D Speed Meter Design, a Multi-Information Display that provides information on the power flow, sport meter, drive meter, drive information and eco display for drivers in their line of sight.
Both models are equipped with a suite of safety features that underline Honda's emphasis on safety, such as four airbags, Vehicle Stability Assist (VSA), Brake Assist (BA), Hill Start Assist (HSA), Emergency Stop Signal (ESS), Multi-Angle Reverse Camera and ISO Fix.
For more information on the New Jazz Hybrid and New City Hybrid, customers can visit any of the 90 Honda authorised dealers nationwide or call Honda's Toll Free number at 1-800-88-2020, or log onto www.honda.com.my.
*As of June 2017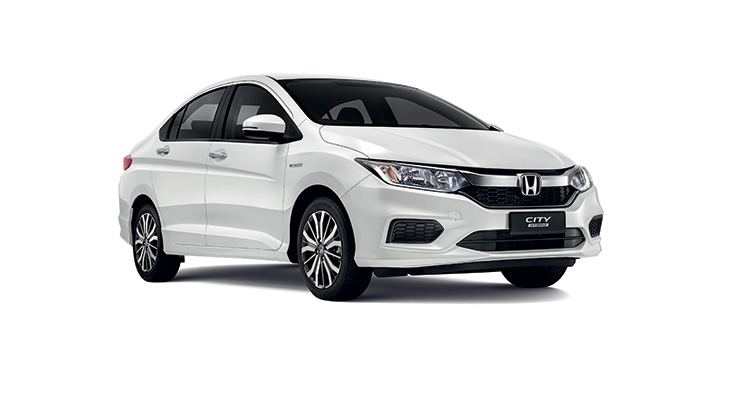 The engine can deliver up to 137PS and 170Nm torque that is equivalent to a 1.8L engine to provide an exhilarating driving performance especially in combination with New City Sport Hybrid i-DCD's Paddle Shift
The engine can deliver up to 137PS and 170Nm torque that is equivalent to a 1.8L engine to provide an exhilarating driving performance especially in combination with New Jazz Sport Hybrid i-DCD's Sport Mode