Petaling Jaya, 16 October 2017 – Honda Malaysia is expanding the care for Honda cars beyond after-sales service by introducing the first ever authorised Ultra Body Coating for all its models.
Customers can now apply this innovative product that helps maintain car body paint finish in pristine condition without concern of voiding the paint warranty of their cars. This advanced Ultra Body Coating has the hardest glass-based coating by Industry Standards (9H Rating) to protect the paint and colour on car body surfaces from the effects of heat, UV rays, iron dust, bird droppings, tar and small stones*
The Ultra Body Coating by Honda Access is made of glass-based material with lubricating function that allows for easier maintenance and effective antifouling to further protect the body paint.
Any model from Honda Malaysia can now have a smooth and glossy body surface with just one application of this revolutionary coating that provides glossiness and long-lasting shine of up to three years!* The Ultra Body Coating is tested and approved by Honda Access in Japan, an authorised genuine brand for Honda accessories.
Honda Malaysia Managing Director and Chief Executive Officer, Mr. Katsuto Hayashi said, "Honda Malaysia is committed to providing excellent after-sales customer experience and Joy of Buying to our customers. We understand that our customers take pride in their Honda cars and want to maintain the shine of their vehicle always. As such, we are introducing the innovative Ultra Body Coating that does not only provide glossiness that lasts over years but also act as another layer of additional protection for the cars. This enhanced protection can help retain the body paint in good condition and increase the long-term value of the car."
Honda Malaysia is offering the Ultra Body Coating at an affordable and discounted price of only RM2,880** for all models with three years warranty***. The package also includes free maintenance for two times, once every six months in the first year. Only if necessary, the third maintenance onwards will be charged (Terms and Conditions apply).
Honda customers who are interested can bring their cars to the nearest authorised panel for coating, or Honda dealers who can assist in making the arrangements. The Ultra Body Coating will be available on 16 October 2017 onwards except for Langkawi, Labuan, Miri, Sibu and Bintulu.
For more information on Honda Access Ultra Body Coating, customers can visit any of the 90 Honda authorised dealer nationwide or call Honda's Toll Free number at 1-800-88-2020, or log onto www.honda.com.my.
* The coating performance and duration may vary depending on the storage environment and usage of the car.
** Product is offered as part of car service at Honda Authorised Service Centres only.
** The price shown is inclusive of labour cost and 6% GST. Honda Malaysia reserves the rights to change the amount without prior notice.
*** Annual checkup is needed to be entitled for the three-year warranty on this product. Warranty void if customers fail to attend annual checkups at Authorised Honda Access Body Coating Applicator.
Other terms and conditions apply.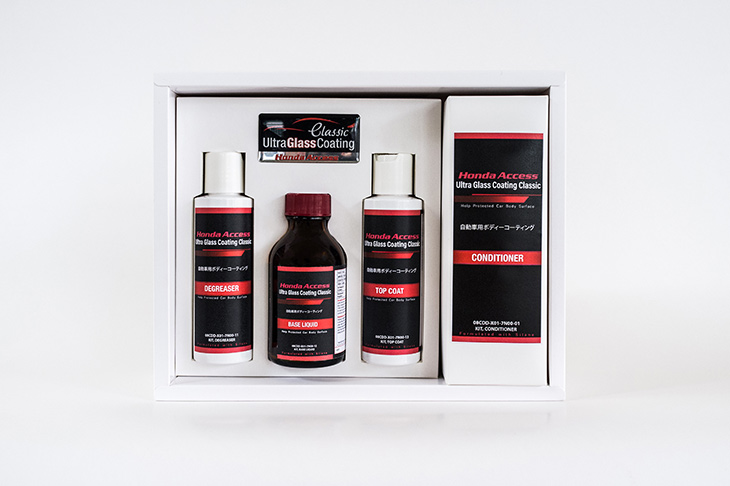 Ultra Body Coating by Honda Access gives further protection from external environment such as heat, UV rays, iron dust, bird droppings, tar and small stones.