Petaling Jaya, 19 October 2017 – Honda Malaysia Sdn. Bhd. today announced that Mr. Toichi Ishiyama will be succeeding Mr. Katsuto Hayashi as its Managing Director and Chief Executive Officer.
Mr. Ishiyama will officially assume office in Malaysia on 1 November 2017. He is currently the President and Chief Executive Officer of Honda Atlas Cars (Pakistan) Limited.
The career of Mr. Ishiyama, 48, spans 25 years in Honda in various roles in Japan, USA, Thailand, China and Pakistan. During his assignments in Thailand and China, Mr. Ishiyama delved deep into understanding local markets in relation to automobile. With more than 20 years of experience in researching markets and product planning, Mr. Ishiyama's forte is an advantage towards ensuring that Honda Malaysia continues its strong momentum as the No.1 Non-National Vehicle Brand and No.2 in overall Total Industry Volume (TIV).
Mr. Ishiyama has indicated that he will continue to focus on total excellence in products and customer experience to emphasise the Joy of Buying for Malaysians. He believes the strategy put in place by Mr. Hayashi will see Honda Malaysia through to another achievement year, reaching the target of 100,000 units in sales for this year.
During his tenure in Malaysia, Mr. Hayashi successfully strengthened Honda Malaysia's position as the No.1 in Non-National segment and No.2 in overall TIV and in the process, also attained No.1 position in terms of market share among Honda automobile operations worldwide in some of those months. The company achieved the highest local market share in history in March 2017, at 20.5%. Honda Malaysia recorded 100,000 sales units in the fiscal year of April 2016 to March 2017 as well celebrated its historical 600,000th production unit under Mr. Hayashi's watch.
Preparing Honda Malaysia for the next growth phase, Mr. Hayashi strategically switched focus to offer more Advanced Technology to customers. Under the theme of Next Generation Advanced Technology, turbocharged engine was introduced last year. Mr. Hayashi was praised greatly for the success of the Civic with turbocharged engine variant as an option for Malaysians. Civic was the pioneer mass production Japanese model in Malaysia to be fitted with turbocharged engine to suit local demand.
This focus was further expanded with the launch of Sport Hybrid i-DCD variants, making Malaysia the only country outside of Japan to introduce the highly accepted environmental-friendly powertrain that does not compromise the fun-to-drive element of the car. To date, Honda Malaysia is the leader of hybrid segment in Malaysia. Honda Malaysia also introduced the All-New CR-V with Honda SENSING to offer a new level of advanced safety. Meanwhile, the soon-to-be launched All-New Civic Type R 2.0L VTEC Turbocharged, which has been recorded as the fastest front-wheel drive production car, is set to exhilarate customers who demand the thrill and fun of the throttle in their drive. In total, Mr. Hayashi steered Honda Malaysia's launch of five new models and expansion by four new dealers to a total of 90 Honda dealers nationwide.
Mr. Hayashi who led Honda Malaysia for one and a half years, will be taking on a new role as the General Manager, Overseas Operation Division (Americas), Regional Operation (North America) in Honda Motor Co., Ltd. in Japan.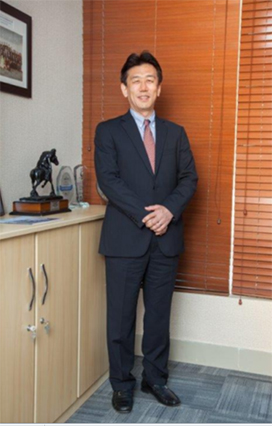 Mr. Toichi Ishiyama will be the Managing Director and Chief Executive Officer of Honda Malaysia Sdn. Bhd.
effectively starting 1 November 2017