Putrajaya, 7 November 2017 – Honda Malaysia today announced that its Next Generation Advanced Safety Technology, Honda SENSING will now be available in its D-segment leader, the New Accord.
This marks the second model in Honda Malaysia's product line that is equipped with Honda SENSING, after the All-New CR-V that was launched in July this year. The upgraded Accord 2.4 VTi-L Advance with Honda SENSING will carry the same premium features that are currently available, which include stylish LED headlights for both front and rear, 7-inch Advanced Display Audio unit with i-MID that is Apple CarPlay compatible and Android Auto ready, and Honda LaneWatch.
Speaking at the launch event where the New Accord with Honda SENSING was introduced, Honda Malaysia Group Vice President,
Mr. Akkbar Danial said, "When the 9th Generation Accord was launched in 2013, it sets a new benchmark in the D-segment as the model that offers premium and advanced features such as the LaneWatch camera. The New Accord that was introduced in 2016 further raises the segment with value added features and standard safety features across all variants. However, the automotive market in Malaysia is seeing an increasing demand for SUVs; this is the growing segment, which has seen a year-on-year growth of 6.3%. In the meantime, the
C-segment vehicles are getting bigger and offer more features. And looking at the current segment situation, the Accord is also facing competition from the entry level models of premium continental makes which are becoming more attractive in pricing."
"From our record, the D-Segment is still mainly dominated by Japanese carmakers with Accord being the segment leader as of September 2017. To keep a step ahead and further redefine the D-segment, Honda Malaysia is offering Honda SENSING in the Accord as an additional safety feature on top of the current premium safety features that are already available. With this upgrade, the Accord with Honda SENSING now offers an unbeatable complete premium package of smart and elegant features such as LED Headlights, smartphone connectivity and a host of standard safety features," Mr. Akkbar added.
With the introduction of Accord with Honda SENSING, this advanced safety feature is now available in the SUV and sedan models from Honda Malaysia. The addition of this new safety feature is also in line with Honda Malaysia's strategy to offer more advanced technology in their products.
Customers of the Accord 2.4 VTi-L Advance with Honda SENSING can tap into a host of driver-assist safety features, which are Adaptive Cruise Control (ACC), Forward Collision Warning (FCW), Collision Mitigation Braking System (CMBS), Lane Keep Assist System (LKAS), Road Departure Mitigation (RDM) and Lane Departure Warning (LDW). These features provide alerts and assistance to drivers to avoid possible dangers or accidents on the road.
Sales of the Accord has been very encouraging, with more than 5,500 units sold since it was launched in September 2016. The 2.4 VTi-L variant contributed 25% to these sales units whilst the 2.0 VTi-L accounted for the biggest percentage at 61%, and the balance 14% came from 2.0 VTi variant. As such, based on customer demands and market study, Honda Malaysia will be offering only two variants of the Accord beginning November 2017; the Accord 2.0 VTi-L at the same current price of RM149,350* and Accord 2.4 VTi-L Advance with Honda SENSING at a marginally increased price of RM169,800*.
Honda Malaysia has recorded an impressive sales performance this year with more than 87,800 units sold from January to October 2017, with the new and existing models being equally well received, including the Sport Hybrids and Turbocharged engine variants. The Sport Hybrid variants have recorded more than 1,860 booking units in 5 months, exceeding the company's target by 24%. Meanwhile, the sales of Turbocharged variants have contributed 60% for Civic and 71% for All-New CR-V. This stable momentum has strengthened and maintained Honda Malaysia's No.1 position in Non-National segment and No.2 in overall TIV from January to October 2017 based on its internal record. With the strong sales performance thus far, Honda Malaysia is confident of achieving its sales target of 100,000 units by the end of 2017.
Honda Malaysia is expected to launch its sixth and last new model of the year, the All-New Civic Type-R very soon. This fastest front-wheel drive production car in the world will be joining Honda Malaysia's 2017 product line-up of BR-V, City, New Jazz and New Jazz Hybrid,
All-New CR-V and New City Hybrid.
For more information on the Accord with Honda SENSING or to book a test drive, visit any of the 90 dealers nationwide or please call Honda's Toll Free number at 1-800-88-2020, or log on to www.honda.com.my.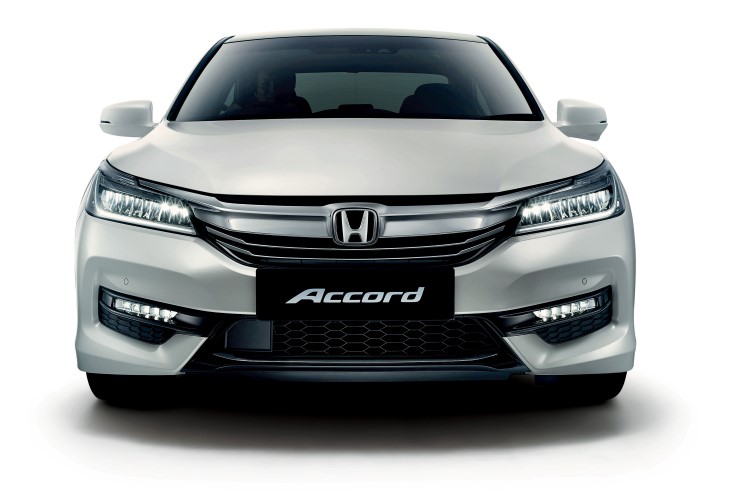 Honda SENSING is now available in the New Accord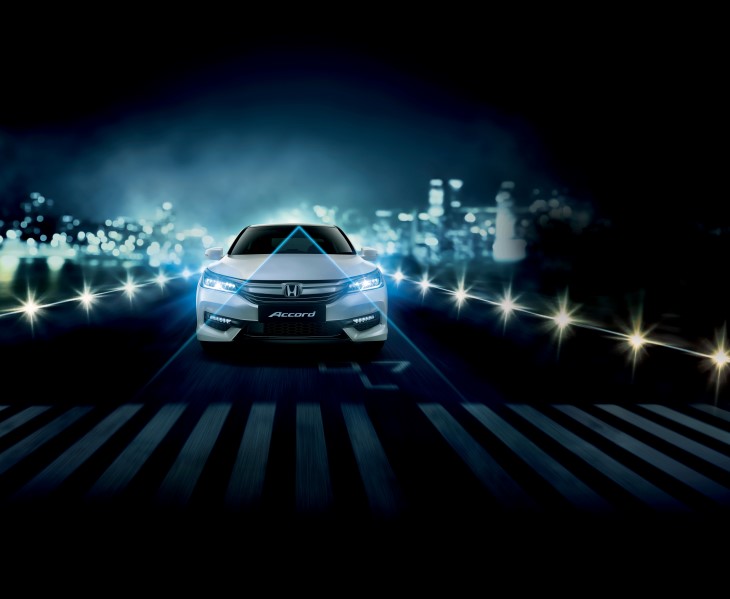 Honda SENSING is now available in the New Accord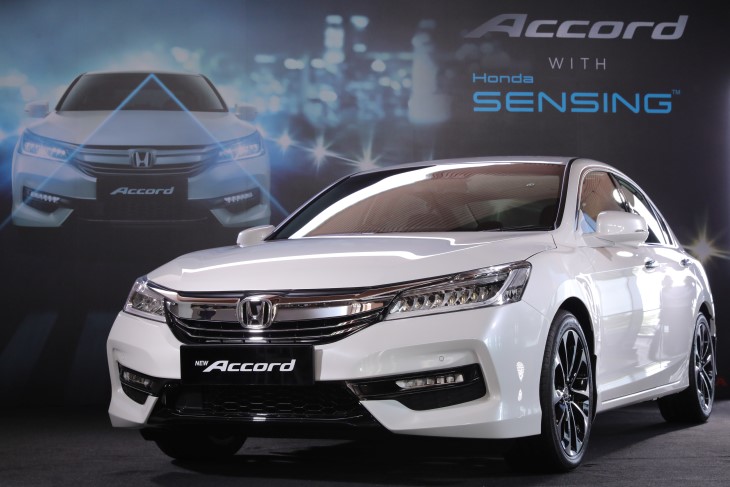 Honda Malaysia Introduces Accord with Honda SENSING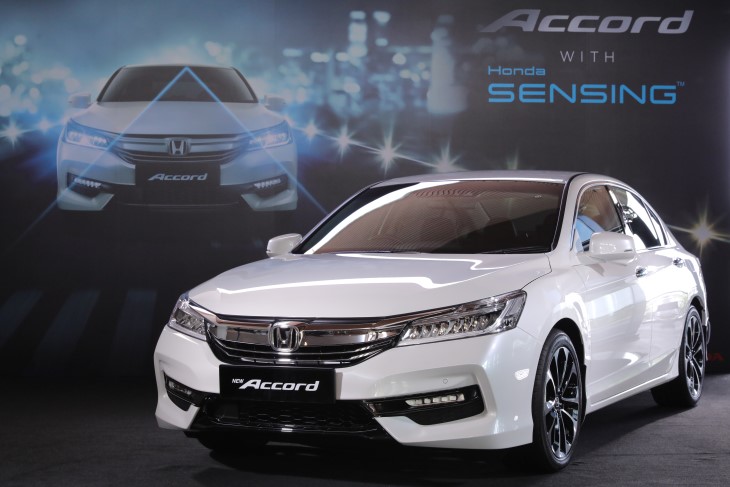 Accord 2.4 VTi-L Advance with Honda SENSING
Honda Malaysia new MD and CEO Mr. Toichi Ishiyama delivering his speech
during the Unveiling of Accord 2.4 VTi-L Advance with Honda SENSING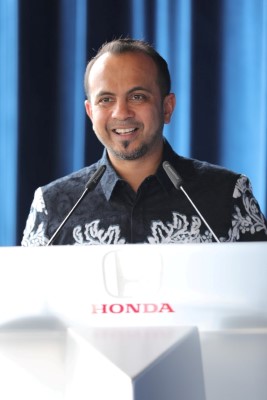 Honda Malaysia Group Vice President Mr. Akkbar Danial delivering his speech
during the Unveiling of Accord 2.4 VTi-L Advance with Honda SENSING