Keningau, 28 November 2017 – Honda Malaysia today opened a new Honda 3S Centre in East Malaysia, located in the sprawling timber and agricultural town of Keningau in Sabah. Equipped with the latest facilities, the Honda 3S Centre by Vermillion Autohaus Sdn. Bhd. (Vermillion Autohaus) is set to provide more convenience to the increasing customer base in Sabah.
The new Vermillion Autohaus Honda 3S Centre is strategically located in Keningau, a town halfway between Tenom and Tambunan, enabling it to also serve these neighbouring townships.
Established with an investment of RM2.5 million on a 5,000 square feet build-up area, the new Vermillion Autohaus Honda 3S Centre is equipped with four service bays with hoists that can accommodate up to 30 cars per day. These service bays include two fast service, one general repair and one tyre service. Adhering to Honda standards for its 3S Centre, Vermillion Autohaus has also furnished it with facilities such as a comfortable Customer Lounge, Café Counter with a variety of free flow snacks and drinks, Surau and Kids' Corner. In addition to these, free Wi-Fi, car wash, road tax renewal and insurance coverage are some of the services that Honda customers in the area can look forward to.
Customers can count on Vermillion Autohaus for the peace of mind that comes with the benefits provided by a Honda 3S Centre, which is equipped with the latest tools and equipment up to Honda standards. The strong after-sales support delivered by the trained and qualified Vermillion Autohaus technicians also include running diagnostics and applying systematic approaches to ensure that every Honda car is maintained in tip-top condition.
Honda Malaysia Managing Director and Chief Executive Officer, Mr. Toichi Ishiyama said, "Customer satisfaction is our No.1 priority. With the increasing customer base and demands in Sabah, Honda Malaysia is constantly looking for opportunities to not only enlarge our market share in Sabah, but to also provide the best after-sales service to our customers from all areas – from the big cities to the smaller towns and districts. With the opening of Vermillion Autohaus Honda 3S Centre in Keningau, we are able to expand our reach to another part of Sabah, and further enhance convenience and bring the Joy of Buying to them. We are also working closely with our dealers to continuously improve customer satisfaction in our after-sales service."
Honda Malaysia has recorded an impressive sales performance in 2017 with more than 87,800 units sold from January to October 2017. At the same time, the market share of Honda Malaysia in East Malaysia has also been on a growing trend. Of the total sales, East Malaysia contributed more than 6,000 units sold. From January to October 2017, Sabah contributed more than 2,000 units sold which is an increase of 55% compared to 2016. The record also showed that BR-V is the best-selling model during this period in East Malaysia.
The opening of Vermillion Autohaus Honda 3S Centre is timely to support the growing number of Honda vehicles in East Malaysia.
The East Malaysia region has also observed growth in service intake, which increased to more than 53,800 units in the January to October 2017 against more than 46,800 units serviced in the same period last year. The significant growth of 15% in terms of service intake alongside the growth in sales has translated to a need for more Honda centres in the region. Currently, Honda Malaysia has 90 dealerships nationwide and Vermillion Autohaus is Honda's fifth 3S Centre in Sabah.
As Honda Malaysia shifted to focus on products with more advanced technology and features at good price points, the company is confident that models such as the All-New CR-V and New Accord that are equipped with Honda SENSING can help to contribute to increase the sales of Honda cars. Honda Malaysia also believes the introduction of the New Hybrid variants in its product line-up can attract the working adults in East Malaysia especially with its attractive advanced features in a package that offers great value.
To make an appointment or to find out more about the services and facilities of this new Honda 3S Centre, customers can contact Vermillion Autohaus at 087-3339 39 or visit them at ¼ Miles, Jalan Keningau-Tenom, Kampung Pampang, 89008 Keningau, Sabah or log on to www.honda.com.my for more information.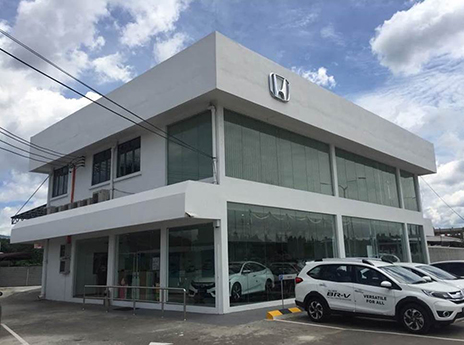 Vermillion Autohaus Honda 3S Centre ready to better serve customers in Keningau, Tenom and Tambunan in Sabah