Setia Alam, 6 February 2018 – Honda Malaysia today announced its strategic business direction for 2018 and is optimistic to continue leading the automotive industry in Malaysia with a target of 109,000 sales units. This target translates to a market share of 18% against the projected 2018 Total Industry Volume (TIV) of 600,000 units.
The target set is based on the stable momentum of the past four years. Honda Malaysia shared that two new models will be launched in 2018, one of which is the New Odyssey with Honda SENSING that was unveiled during the event. Honda Malaysia has also identified after-sales as the primary area of focus to elevate the Joy of Buying for customers and for them to enjoy owning a Honda to another level.
Honda Malaysia Managing Director and Chief Executive Officer, Mr. Toichi Ishiyama said, "According to our internal survey, our Customer Satisfaction Index (CSI) score has increased by 23 points compared to the previous year. To further provide more Joy, we will significantly enhance this area in 2018. As customer satisfaction is Honda's No.1 priority, this year we are focusing on the three main areas of dealer expansion and customer experience, skilled associates at dealers, and customer's virtual touchpoint. Towards this end, customer satisfaction will be the main emphasis in 2018. The total investment to enhance Honda's operation and after-sales is estimated at RM31 million."
Seven more dealerships, ranging from 3S and 2S Centres to standalone Body and Paint Centres, will be opened by the end of 2018 to extend Honda Malaysia's reach and provide more convenience to their customers. In addition to new dealerships, current dealerships will be upgraded to enhance the quality of service for customers and meet the increasing customer demand.
Honda Malaysia is also boosting after-sales support by opening Express Dealers where customers can enjoy fast service within one hour and thirty minutes instead of the two hours required for normal service. The first Express Dealer is the HZN Express 2S Centre in Glenmarie Shah Alam which is all ready to serve customers with its expedited service.
In addition to this, Honda Malaysia is also in the midst of implementing the New Corporate Identity (C.I) at the dealers to present customers with a fresher image based on the concept of Innovative and Inviting with Human Centric elements. The New C.I. seeks to enhance customer experience, from the latest facilities to top-notch hospitality.
In 2017, Honda Malaysia opened and upgraded six dealerships and the total service intakes rose 13% compared to 2016, marking it as the highest number of service intakes Honda Malaysia has ever recorded. With such a considerable increase, it is crucial for the company to have more well-trained technicians in its dealerships. To fill this important integrant, Honda Malaysia is collaborating with a public vocational college and a local private automotive college where selected students and graduates will receive a 6-month training before becoming certified technicians for Honda Malaysia. The training will help prepare the graduates to keep with the Fixed Right First Time (FRFT) standard, a key component to customer satisfaction in the automotive industry.
To offer easy accessibility for customers, Honda Malaysia is setting up the After-sales Portal, a virtual touchpoint to make bookings for service appointments and track the progress status of vehicles, service history and product updates. This dedicated portal, which will be optimised for both computers and mobile devices is slated to go live later this year.
Taking accessibility another step further to enhance convenience for customers, the Honda Toll Free call centre will now operate 365 days, 13 hours a day from 9:00 am to 10:00 pm including on public holidays.
These after-sales and customer-centric initiatives come on the back of a spectacular year of sales achievements for Honda Malaysia. The company recently announced its outstanding sales record of 109,511 units, the highest total sales in its history. The achievement, which is also the highest total sales ever achieved by a Non-National car brand in Malaysia, maintained Honda at the No.1 position in Non-National segment for 3 consecutive years and No.2 position in overall TIV for 2 consecutive years. Model-wise, all its CKD models finished the year as segment leaders. Globally among all Honda Automobile operations, this 19% market share placed Honda Malaysia in No.2 position, just 0.1% behind Honda Atlas Cars (Pakistan) Ltd. It also raised Honda Malaysia into the network of important markets for Honda.
Locally, the acceptance of Honda vehicles was the highest in the central region which accounted for 47.3% of the total sales in 2017. As Honda Malaysia continued its East Malaysia inroad plans, the company recorded a 0.8 point growth in contribution from this region to its overall sales, from 6.1% in 2016 to 6.9% in 2017.
Honda Malaysia is confident of not only meeting its 2018 sales and market expectations but also further increasing customer satisfaction. Honda Malaysia believes its established Honda brand coupled with attractive line-up of products that offer advanced technology and strong emphasis on after-sales will help it meet these goals.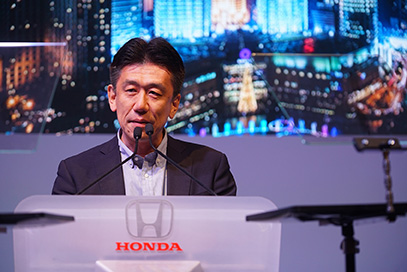 Honda Malaysia MD and CEO Toichi Ishiyama sharing on the 2018 strategic business direction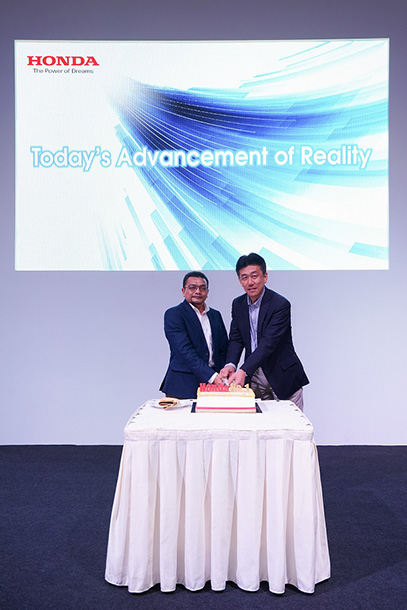 Honda Malaysia celebrating its 2017 outstanding achievements