Cheras, 31 July 2018 – Honda Malaysia Sdn. Bhd. (Honda Malaysia) has opened the latest Honda 3S Centre, offering Sales, Services and Spare Parts to support the increasing Honda customer base. Located in Cheras within metropolitan Kuala Lumpur, MJN Motors Sdn. Bhd. (MJN Motors), the new Honda 3S Centre will improve convenience and access for customers in the city and its nearby areas, in particular Cheras, Kajang and Seri Kembangan; parallel with Honda Malaysia's focus on increasing customer satisfaction.
MJN Motors invested a total of RM6 million into the 11,000-square foot building that offers the latest facilities and equipment in compliance with Honda standards. The new Honda 3S Centre has a total of 12 bays, comprising 7 Service Bays, 3 General Repair Bays and 2 Tyre Service Bays that can accommodate up to 30 cars per day. For customers' convenience, they are offering a variety of amenities including a Customer Lounge, an Executive Lounge, a Kids Corner, a Café Counter and a Surau. Additional services such as Road Tax Renewal, Insurance Coverage and Courtesy Car are made available at MJN Motors Honda 3S Centre.
Honda Malaysia Managing Director and Chief Executive Officer, Mr. Toichi Ishiyama said, "As we continue to emphasise customer satisfaction, the role that our dealers play is very important. Honda Malaysia is confident that all the efforts can be accomplished with the strong support of dealers such as MJN Motors. The opening of MJN Motors Honda 3S Centre will provide greater convenience to our increasing customer base, towards attaining better customer satisfaction."
Honda Malaysia completed the first half of 2018 on a good note with a record of 51,354 units sold and on track to achieve the 109,000 sales units targeted for 2018. Honda Malaysia also recorded the highest number of bookings in its history in June 2018 with the total bookings of 20,000 units. This positive momentum has maintained its positions as No.1 in Non-National segment and No.2 in the Overall Total Industry Volume (TIV) for the first half of 2018. Model-wise, all its CKD models, which consist of the City, Jazz, HR-V, BR-V, CR-V, Accord and Civic are leaders in their respective segments.
Of the total sales for the period of January to June 2018, the Central region stood out as the highest contributor with more than 24,400 units or 47%. In terms of sales breakdown by state, Selangor contributed 67% in Central region sales, which City was the most sought-after model in this state.
In tandem with the increased sales, the total after-sales service intakes in the first half of 2018 have risen close to 612,000 units or an increase of 11% over the same period last year. In the Central region, the records showed that it received more than 296,300 after-sales service intakes, accounting for 48% of the total service intakes, a 10% increase against the first half of 2017.
Honda Malaysia aims to improve its customer satisfaction and in line with this, the company continuously works closely with Honda dealers for better after-sales service, on top of offering high quality products to customers. To date, there are 96 dealerships and 20 Body and Paint Centres available nationwide. From the total dealership, there are 37 dealerships available in the Central region.
The opening of this new Honda 3S Centre will contribute to the Joy of Buying for customers while MJN Motors has the Joy of Selling and serves customers better.
To make an appointment or to find out more about the services and facilities, customers can contact MJN Motors Sdn Bhd (Honda 3S Centre) at 03-9081 6088 (Sales and Service) or visit them at Lot 58274, Jalan Sayang 1, Taman Rasa Sayang, 43200, Cheras, Selangor or log on to www.honda.com.my for more information.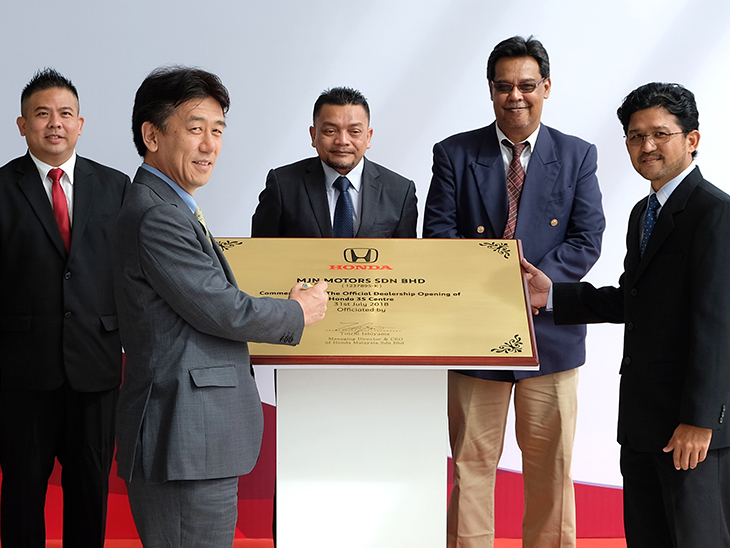 Mr. Toichi Ishiyama, MD and CEO of HMSB officiated MJN Motors Honda 3S Centre, witnessed by Encik Roslan Abdullah, President and COO of HMSB and the Management of MJN Motors Sdn Bhd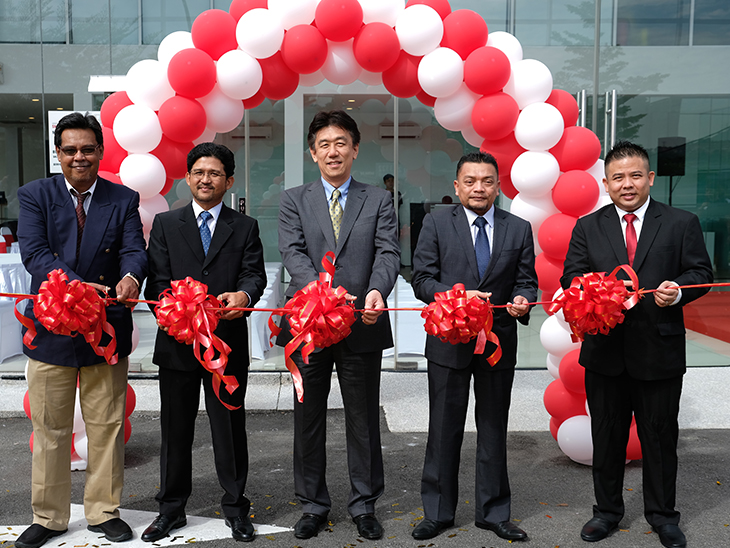 Management of Honda Malaysia and MJN Motors Sdn Bhd during the ribbon cutting ceremony at the new Honda 3S Centre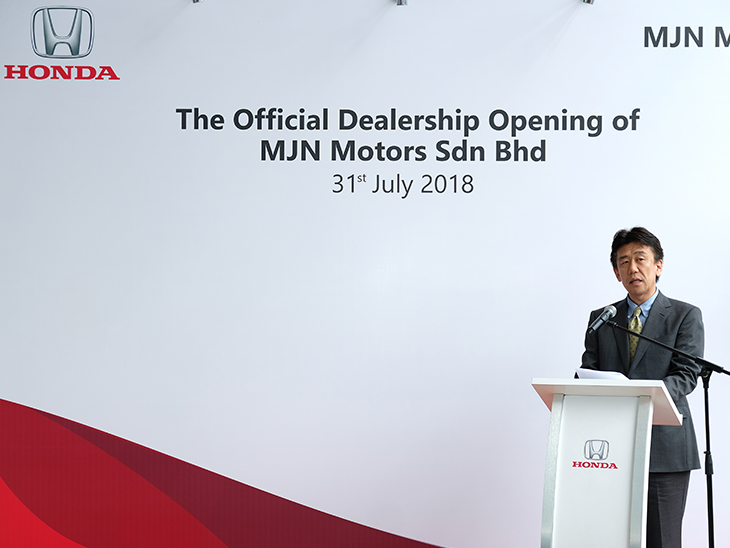 Mr Toichi Ishiyama, MD and CEO of HMSB gave his speech during the official launch of MJN Motors Honda 3S Centre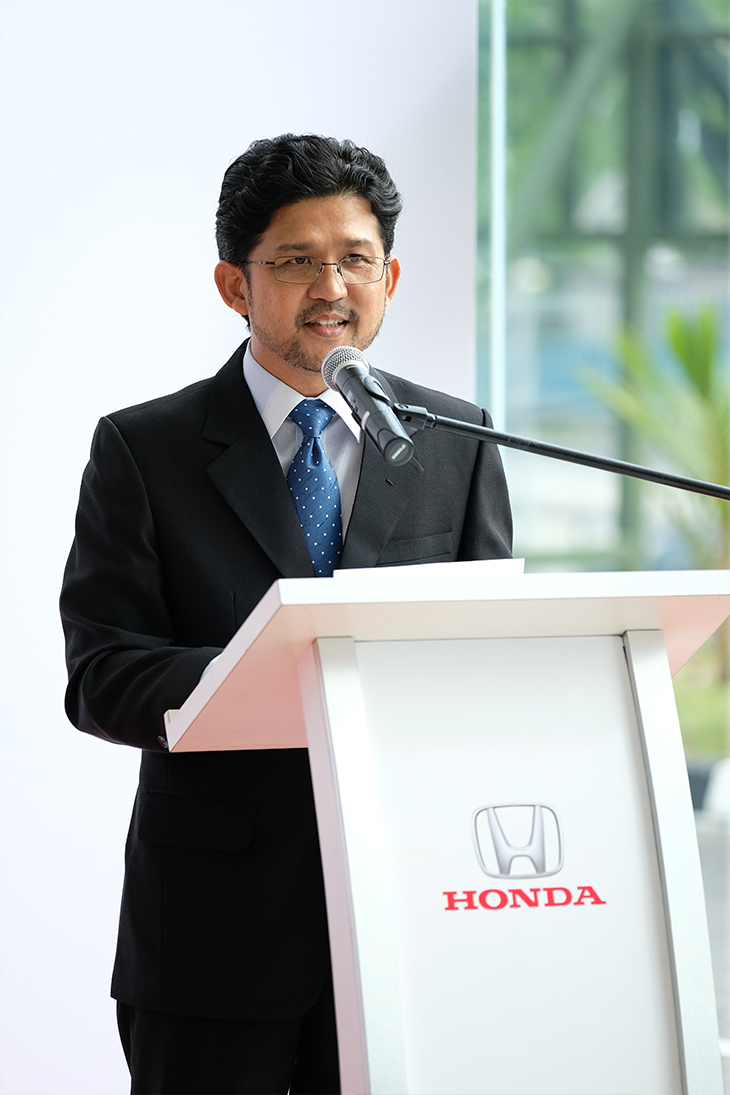 Encik Wan Hazmi Wan Mustafa, Executive Director of MJN Motors Sdn Bhd during his speech at the new Honda 3S Centre launch
Management of Honda Malaysia and MJN Motors Sdn Bhd took a commemorative photo together at the official launch of MJN Motors Honda 3S Centre