Petaling Jaya, 3 September 2018 – Honda Malaysia (or the Company) today announced the new pricing of its models following the recent announcement by the Government of Malaysia on the Sales and Service Tax (SST) implementation effective 1st September 2018. The new pricing is inclusive of 10% Sales Tax which was implemented on motor vehicles.
Honda's Completely Knocked Down (CKD) models namely Jazz, BR-V, City, Civic, CR-V and Accord will be priced ranging from RM70,242 to RM169,398*. Prices of its Completely Built Unit (CBU) models such as the Odyssey and Civic Type R will be priced at RM258,896 and RM330,002* respectively.
The new SST establishment will have its rate set at 10% for sales and 6% for services. Honda Malaysia's after-sales services will be subjected to a 6% service tax for maintenance labour charge.
Honda Malaysia Managing Director and Chief Executive Officer Mr. Toichi Ishiyama said, "With the new SST legislation taking effect on 1st September 2018, Honda Malaysia have adjusted the prices for Honda models and after-sales services accordingly. We remain committed to providing the Joy of Buying to our customers with quality products and unique advanced features and technology".
Honda Malaysia has also recently announced a 'Joy of Buying' campaign in conjunction with the Malaysia Independence Day and Honda's 70th Anniversary celebration. The campaign which runs from 1st September 2018 to 31st October 2018 aims to reward lucky Honda customers who submit the most creative slogans with 7 Honda City, 17 Sony Blu-ray Home Cinema System and 277 official Honda merchandise.
Customers can visit any of Honda's 96 authorized dealers nationwide or call Honda's Toll Free number at 1-800-88-2020 or log on to www.honda.com.my for more information.
*Price in Peninsular Malaysia effective 1 September 2018
Prices are subject to change without prior notice
Please refer to the tables below for the New Price - Effective 1 September 2018
(All prices reflected are without insurance)
Table 1: Peninsular Malaysia
Table 2: East Malaysia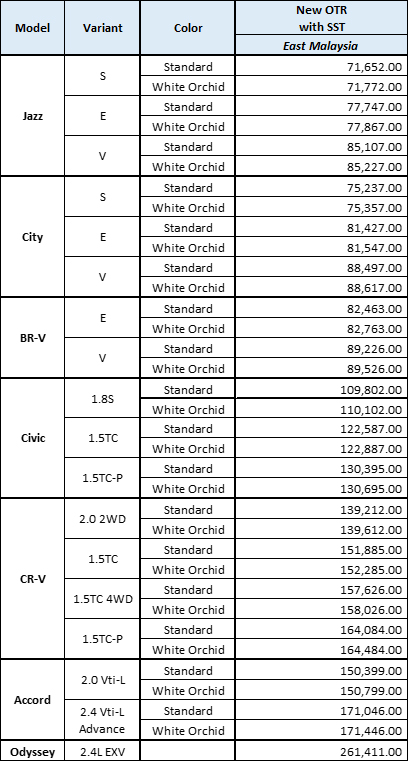 Table 3: Langkawi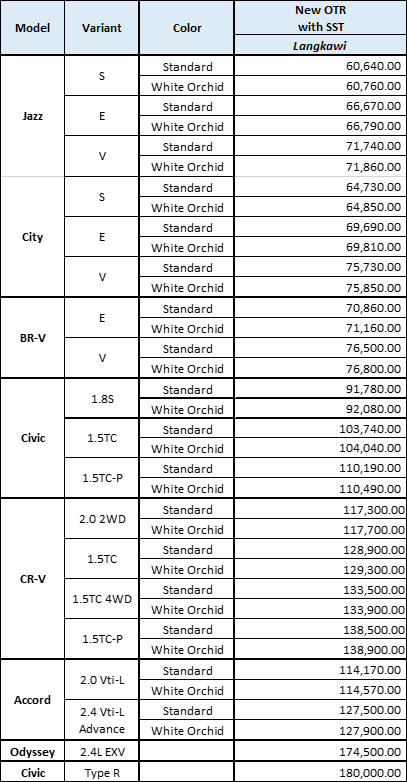 Table 4: Labuan