Petaling Jaya, 21 September 2018 - Honda Malaysia is unwavering in its commitment to ensure that all affected Takata airbag inflators are replaced as soon as possible for customers' safety, and continues to emphasise the importance of replacing the affected Takata airbag inflators immediately. The company will also continue to work closely with the Ministry of Transport (MOT) and Road Transport Department (JPJ) to further emphasise the urgency to replace affected Takata airbag inflators.
As at September 20, 2018, Honda Malaysia has completed more than 236,800 units of Takata driver front airbag inflator which translates to 90% completion ratio. The total number of Takata driver and passenger front airbag inflator replacements completed is at more than 496,400 units or 84%.
There are remaining affected Takata airbag Honda vehicles that comprise a range of models yet to be replaced.
*Please refer to tables below for detailed information on affected vehicle models and years.
Honda Malaysia appeals to affected Honda customers who have yet to undertake the replacement activity to urgently replace their affected Takata front airbag inflators as it may deploy with excessive internal pressure when activated. The airbag inflator casing might rupture which may result in injury or fatality of the driver and passenger.
Stock availability for both driver and passenger front airbag inflator replacement is at 100% for all models. The replacement of the affected Takata airbag inflators is FREE OF CHARGE and any cost related to Takata airbag inflators replacement will be borne by Honda Malaysia.
Vehicle owners can check their vehicle product recall status through any of these methods:
1. Visit Honda website at: www.honda.com.my or www.productrecall.honda.com.my
2. Call the Honda toll free number at 1-800-88-2020
3. Visit any Honda authorized dealers
1. Replacement Capacity
A total of 94 Honda authorized service dealers nationwide are on standby to prioritise affected Takata airbag inflators. Customers are highly recommended to make an appointment with the Honda authorized service centre nearest to them to ensure priority for replacement activities and avoid delays or setbacks in replacing the Takata airbag inflators.
To provide easier access to replacement activities, Honda Malaysia also made available more locations for customers to undertake replacement activities including dedicated Mobile Hubs at selected shopping malls, as well as at selected PETRONAS stations. Replacement activities at the Mobile Hubs and selected PETRONAS station hubs do NOT require advance appointment as walk-ins are welcomed at these locations.
**Please refer to the attached tables on locations and operating hours of the replacement activities at selected Shopping Malls and PETRONAS stations.
Honda Malaysia also has Mobile Teams from Honda authorized dealers who will be operating in selected areas. The associates in the Mobile Teams will be in Honda uniforms and have with them an authorization letter for customers' convenience in recognizing the team. Customers may request to view their Honda Identification Tag or contact the Honda Toll Free number 1-800-88-2020 for further confirmation when approached by the Mobile Team. The door-to-door Mobile Teams will also make arrangements for replacement activities on-site where necessary for customers who are genuinely unable to go to any nearest dealer or the replacement hubs.
 
2. Servicing for Parallel Imported Honda Vehicles
Honda Malaysia continues to extend the replacement of Takata airbag inflators to parallel imported Honda vehicles, which were not sold by Honda Malaysia. Owners of parallel imported Honda vehicles are advised to contact Honda authorized dealers to check on the status of their vehicles and if affected, to make arrangements to replace their airbag inflator as soon as possible. Cost of parts and labour for the airbag inflator replacement will be borne by Honda Malaysia and is free of charge to the owners. Honda Malaysia continues to emphasise the importance of replacing the affected Takata front airbag inflators and implores the owners of the affected Honda vehicles to do so as soon as possible. The company also urges all Honda vehicle owners to register their vehicles at the nearest dealer so that any information sent can reach the owners adequately.
Honda Malaysia would like to affirm that the current selling line-up of Honda models do not have the same type of Takata airbag inflators as previous models affected in the recall. All current selling Honda models are not affected.
*Table: Honda affected vehicle models and years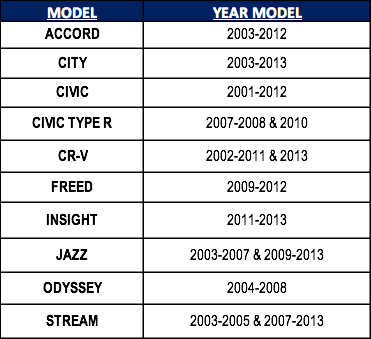 PETRONAS STATION WITH TAKATA FRONT AIRBAG INFLATORS REPLACEMENT ACTIVITIES BY Honda MALAYSIA
CENTRAL
SOUTHERN
EAST COAST
LOCATION
PETRONAS STATION AMPANG
Lot 15949 , Taman Putra,
68000 Ampang,
Selangor
PETRONAS STATION BATU CAVES
Lot Komersial 3, Jalan SM 1, Bandar Sunway Batu Caves,
68100 Batu Caves,
Selangor
PETRONAS STATION SKUDAI
Lot PTD 55821, Jalan Kebudayaan, Taman Universiti,
81300 Skudai,
Johor
PETRONAS STATION PLENTONG
Lot PTD 177201, Taman Desa Cemerlang,
Mukim Plentong,
81750 Johor Bahru, Johor
PETRONAS STATION KUANTAN
Lot 24757, Jalan Sungai Lembing,
25200 Kuantan, Pahang
GPS
3.119047 , 101.763032
3.235971 , 101.687482
1.538135 , 103.629966
1.563026 , 103.806529
3.821166 , 103.309261
OPERATING HOURS
Opens every day:
8:00 am - 5:50 pm
Opens every day:
8:00 am - 5:50 pm
Opens every day:
8:00 am - 5:50 pm
Opens every day:
8:00 am - 5:50 pm
Opens every day:
8:00 am - 5:50 pm
Honda MALAYSIA MALL HUBS LOCATION AND OPERATING HOURS
September 2018
Sat
22nd
Sun
23rd
Sat
29th
Sun
30th
AEON Bukit Tinggi
Tesco Extra Seremban 2
LOCATION
No. 1, Persiaran Batu Nilam 1/KS 6,
Bandar Bukit Tinggi 2,
41200 Klang, Selangor
No. 1, Jln Haruan 2,
Bukit Kepayang,
70300 Seremban, Negeri Sembilan
GPS
2.9938 , 101.4439
2.7118 , 101.9146
OPERATING HOURS
10:00 am - 7:00 pm
10:00 am - 7:00 pm
Tesco Kulim
Tesco Shah Alam
LOCATION
386, Jalan Lembah Impiana 9,
Lembah Impiana 3,
09000 Kulim, Kedah
3, Jalan Aerobik 13/43,
Seksyen 13,
40100 Shah Alam, Selangor
GPS
5.362434 , 100.527180
3.072614 , 101.538236
OPERATING HOURS
10:00 am - 7:00 pm
10:00 am - 7:00 pm