Pasir Gudang, 7 December 2018 – Honda Malaysia Sdn. Bhd. (Honda Malaysia) today has officially launched its latest Honda 3S Centre located in Pasir Gudang, Johor by Yong Ming Motor Sdn. Bhd. (Yong Ming Motor). With this opening, Honda Malaysia has 97 dealerships nationwide with 12 dealerships in Johor to-date to provide easier accessibility and more convenience to customers.
Yong Ming Motor invested a total of RM18.5 million into the 77,000-square foot building in Pasir Gudang that is equipped with latest facilities and equipment. This 4-storey building (including basement parking) houses 14 bays, comprising 9 Service Bays, 3 General Repair Bays and 2 Tyre Service Bays that can accommodate up to 30 cars per day. On top of that, the new Honda 3S Centre has conducive and comfortable lounges especially for customers to relax in or catch up on work. There is also a free flow of food and beverage for customers to enjoy, Kids Corner and appropriately-assigned prayer rooms for Muslims to perform their prayers while waiting for their cars to be serviced.
Yong Ming Motor has a well-established relationship with Honda for over 48 years and the opening of this new Honda 3S Centre in Pasir Gudang marks its second Honda dealership. The first Yong Ming Motor Honda dealership opened in Skudai, where they have maintained high quality sales and after-sales service which has enabled them to consistently emerge as a top dealer.
Honda Malaysia Managing Director and Chief Executive Officer, Mr. Toichi Ishiyama said, "With customer satisfaction being our main priority, it is very important for Honda Malaysia and our dealership partners to work together closely in order to serve our mutual customers better. This can only be achieved with strong support from our partners such as Yong Ming Motor. We believe this dealership expansion in Johor will provide more convenience to our customers, particularly in Pasir Gudang. Customers will be able to enjoy high quality service and after-sales offerings at an authorized Honda dealership nearer to them with upgraded facilities to enhance their Joy of Buying."
The Director of Yong Ming Motor, Mr. Kenneth Cheng said, "We are grateful for the opportunity given to us by Honda Malaysia to grow our customer base in this area. Previously customers in this area had to travel far to view the latest models or to service their cars but with our new dealership we aim to offer them the best Honda experience closer to where they are. This showroom that we are opening today represents our continuing commitment to Honda Malaysia."
The opening of new Yong Ming Motor Honda 3S Centre in Pasir Gudang is timely to support the increasing customers and after-sales service intake in Johor and able to provide the best quality service to them. Based on the record, the after-sales intake rose 51% in the past five years. From January to November of 2018, the southern region alone recorded over 235,000 service intakes, an increase of 13% against the same period last year.
In terms of sales performance by region, the southern region was the second highest contributor with more than 17,000 units sold from January to October 2018 an increase of 2% when compared to the same period in 2017. This achievement is largely thanks to the Johor state which was the highest contributor to the southern region, accounting for over 12,000 units sold. Model-wise, the B-segment leader, City tops the chart as the best-selling model in the southern region. This model contributed 24% to the total southern region sales followed by Civic and CR-V which contributed 11% and 9% respectively to the regional sales units during this period.
To make an appointment or to find out more about the services and facilities, customers can contact Yong Ming Motor (Honda 3S Centre) at 07-255 8888 or visit them at PTD 209607, Jalan Bandar, Business Centre II, 81700, Pasir Gudang, Johor or log on to www.honda.com.my for more information.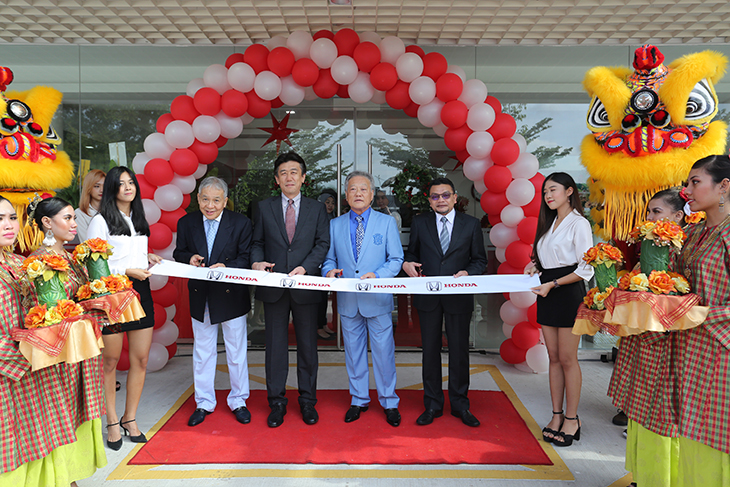 Management of Honda Malaysia and Yong Ming Motor Sdn Bhd at the ribbon cutting ceremony of the new Honda 3S Centre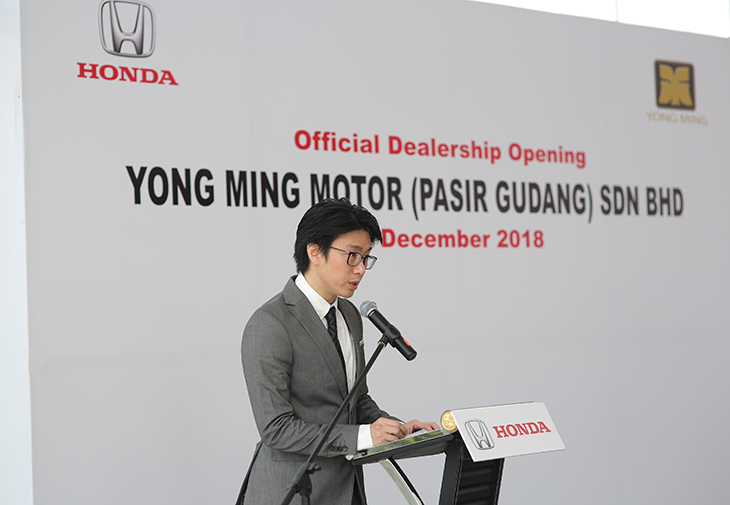 Director of Yong Ming Motor Sdn Bhd Mr Kenneth Cheng delivering his speech at the Official Opening of Yong Ming Motor Honda 3S Centre in Pasir Gudang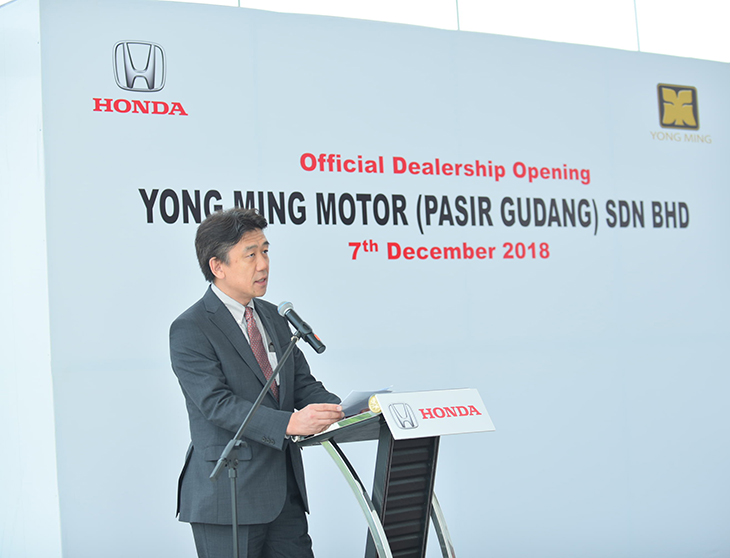 Honda Malaysia MD and CEO Mr Toichi Ishiyama during his speech at the Official Opening of Yong Ming Motor Honda 3S Centre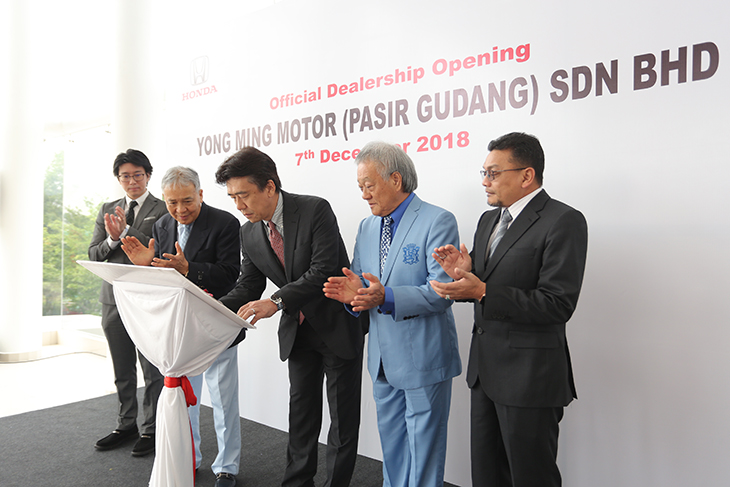 Honda Malaysia MD and CEO Mr Toichi Ishiyama signed the plaque after the opening ceremony, witnessed by Honda Malaysia President and COO En Roslan Abdullah and Management of Yong Ming Motor Sdn Bhd
Management of Honda Malaysia and Yong Ming Motor Sdn Bhd taking commemorative photo at the Official Opening of Yong Ming Motor Honda 3S Centre in Pasir Gudang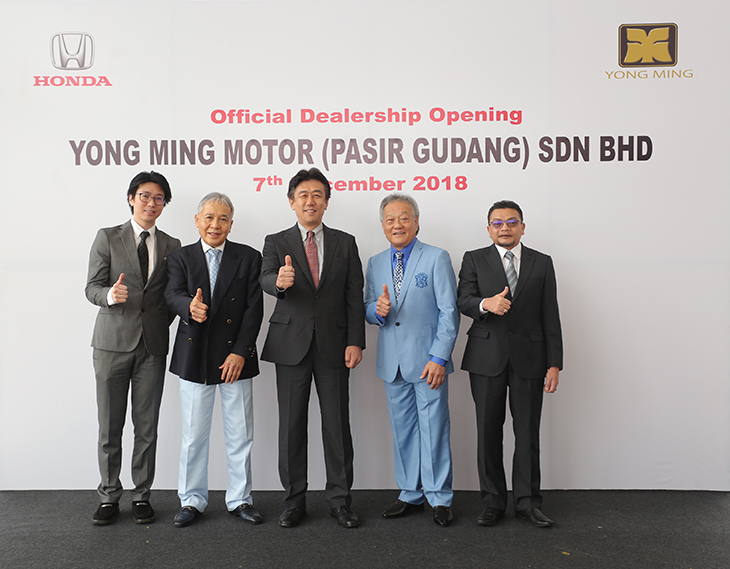 Management of Honda Malaysia and Yong Ming Motor Sdn Bhd taking commemorative photo at the Official Opening of Yong Ming Motor Honda 3S Centre in Pasir Gudang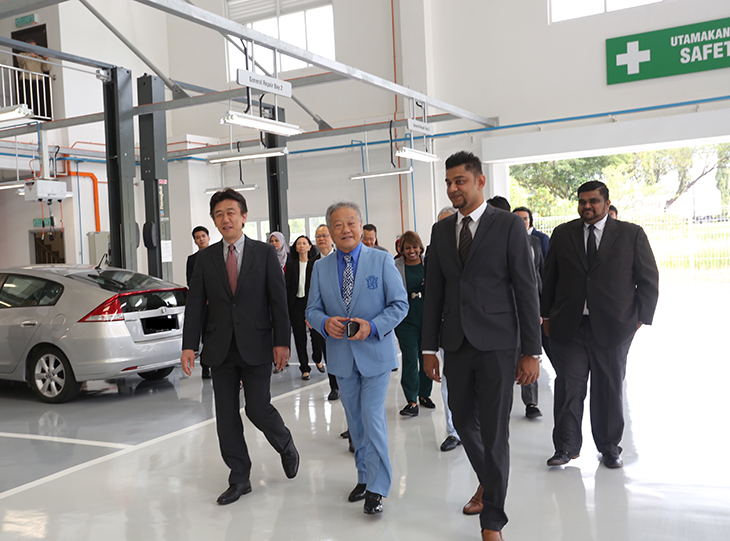 Honda Malaysia MD and CEO Mr Toichi Ishiyama and Yong Ming Motor Sdn Bhd Chairman and MD Mr Alan Cheng touring the new
Honda 3S Centre in Pasir Gudang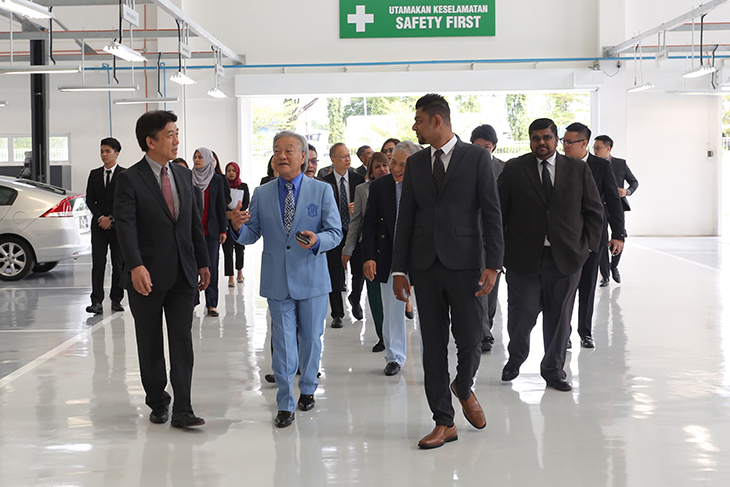 Yong Ming Motor Sdn Bhd Chairman and MD Mr Alan Cheng is showing the latest facilities and equipment of the new 3S Centre to
Honda Malaysia MD and CEO Mr Toichi Ishiyama