Petaling Jaya, 5 April 2019 – Honda Malaysia continues to offer fabulous reasons for customers to finally own their dream Honda car this April under the "Enjoy the Gifts of Booking Early" campaign. Aimed at uplifting the Joy of Buying for customers, Honda Malaysia is giving special rewards such as Honda Bonus*, Free Service Voucher or Cash options* worth up to RM3,500, plus an Exclusive Gift* to add incentives to the overall great design, good performance and excellent fuel efficiency of a Honda car.
The rebates are applicable for Jazz, Jazz Hybrid, City, City Hybrid, BR-V, Accord, CR-V and Odyssey models registered on 1 April 2019 to 30 April 2019.
The "Enjoy the Gifts of Booking Early" campaign is one of the efforts by Honda Malaysia to thank Malaysians for putting their trust in the brand and making them the No.1 Non-National brand for four consecutive years and No.2 position in overall Total Industry Volume (TIV) for three consecutive years.
Continuing to excite the market, Honda Malaysia launched in January 2019, the New HR-V with a multitude of new features in its V and E variants. Alongside the upgraded HR-V, Honda Malaysia introduced the RS variant for the first time which comes with the Variable Gear Ratio Steering System (VGR)** for a sportier drive. At the same time, the New HR-V 1.5L Sport Hybrid i-DCD also joined the Honda Hybrid family in Malaysia. At the heart of this well-performing Hybrid model is a 1.5L DOHC i-VTEC engine with Direct Injection engineered to generate high performance equal to that of a 2.0L engine with balanced fuel-economy. It is also equipped with 7-Speed Dual-Clutch Transmission with High-Power Electric Motor that enables smooth and quick gear-shifting. On top of the great performance, both petrol and hybrid variants have top-notch functional and practical features that include Multi-Utility Cargo Space for better space usage. The New HR-V also comes with standard safety features such as Six Airbags, Emergency Stop Signal (ESS), Vehicle Stability Assist (VSA), Hill Start Assist (HSA) and ISO Fix.
Since its launch, the New HR-V has sold close to 6,000 units, achieving 45% of the yearly target for HR-V in just three months. The overwhelming response also can be seen from the number of bookings which to-date Honda Malaysia has received close to 11,000 unit bookings. Honda Malaysia ensures that they will deliver the New HR-V to customers within a reasonable waiting period. The record has enabled this model to maintain its position as the Compact SUV segment leader. Honda Malaysia would like to thank Malaysians for the positive feedback since its launch early this year.
The new model introduction has also generated continued positive momentum into 2019. Honda Malaysia recorded more than 22,000 units total sales sold from January to March 2019. The record also showed that City was the best-selling model for Honda Malaysia in the first three months of 2019, followed by HR-V and CR-V.
With the steady performance of the first quarter, Honda Malaysia is optimistic that it will be on track to achieve its 2019 target as it continues to emphasise Honda's Next Generation Advanced Technology, which comprises three pillars of technology, namely Honda SENSING, VTEC Turbocharged and Sport Hybrid i-DCD.
For more information on the "Enjoy the Gifts of Booking Early" campaign or to book a test drive, customers can visit any of the 98 authorised Honda dealerships nationwide or call Honda's Toll Free number at 1-800-88-2020 or log onto www.honda.com.my for more information.

* Terms and conditions apply
** Only available for the RS variant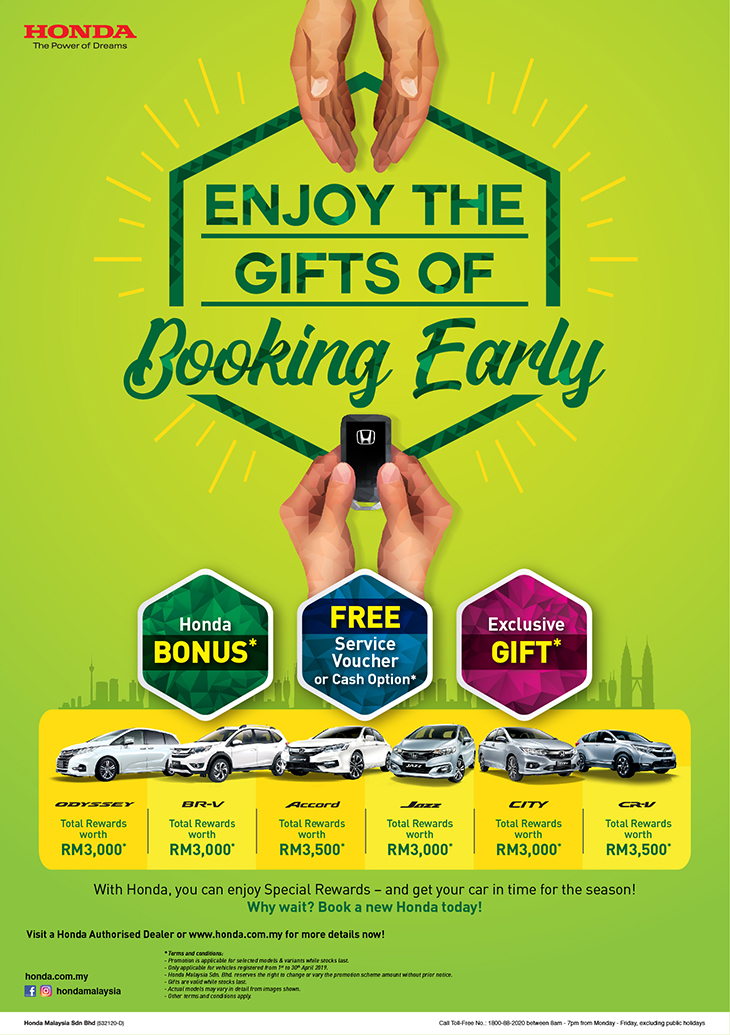 Enjoy The Gifts Of Booking Early campaign by Honda Malaysia offers extra bonus up to RM3,500