Klang, 13 May 2019 – Honda Malaysia (or the Company) recorded a historical milestone with the delivery of the 130,000th Civic to its owner. This impressive achievement was an accumulation of Civic sales since the 7th Generation was introduced in Malaysia in year 2001. The record sales reflected the good market acceptance of the Civic in the C-segment sedan. Currently, the Civic still holds its position as the C-segment leader.
The Civic is among the popular Honda models in Malaysia, with the 7th Generation recording more than 9,300 unit sales, the 8th Generation contributing close to 50,400 unit sales followed by the 9th Generation with more than 27,000 unit sales. The 10th Generation Civic launched in 2016, which is also the first generation to be powered by a turbocharged engine, is currently the most sought after model, having sold more than 42,200 units*.
Honda Malaysia Group Vice President, Ms. Jahabarnisa Haja Mohideen said at the handover ceremony, "A heartfelt thank you and deep appreciation to all our 130,000 Civic customers in Malaysia. Their support and belief in the Honda brand have enabled our models to achieve segment leadership positions including the Civic which is leading the C-segment. In Malaysia, the Civic is synonymous with the Honda brand and has won many hearts here. It has consistently been well supported by Malaysians. Despite the limitation of sales units in the beginning of the year, the Civic continues to dominate the C-segment with the highest market share at 77%*. With the current line-up of models including the popular Civic, we believe we are on track to achieve our sales for 2019. We currently remain as No.1 in Non-National Segment and No.2 in overall Total Industry Volume (TIV) positions."
The Civic is powered by 1.5L VTEC Turbocharged engine which is developed under Honda's Earth Dreams Technology, providing a performance equal to a 2.4L engine. The turbocharged engine aims to provide the 'Joy of Driving' with its fun-to-drive performance and excellent fuel economy while continuing to turn heads with its sleek and stylish design. It is also equipped with a smart monitoring system, which helps in maintaining the efficiency of the engine performance. Enhancing the drive with style and innovation, the model also comes with features such as Remote Engine Start, Walk Away Auto Lock, Electric Parking Brake (EPB) and Auto Brake Hold (ABH), which are available in all variants of the Civic.
As safety is a given priority for all Honda models, all Civic variants are equipped with top class safety specifications featuring 6 Airbags, Vehicle Stability Assist (VSA), Anti-Lock Braking System (ABS), Electronic Brake Distribution (EBD), Brake Assist (BA), Hill Start Assist (HSA), Emergency Stop Signal (ESS) and ISO Fix.
The Civic offers sporty design, dynamic performance, excellent fuel-efficiency, spaciousness and top notch safety features – all in a very attractive price package of a C-segment price for a D-segment value. The much-loved Civic is an ideal sedan for working adults, young families and urbanites who demand for a stylish and practical companion for a varied lifestyle.
The 130,000th Civic is a 1.5L VTEC Turbocharged Premium variant in Dark Ruby Red colour, which was delivered to its owner; Ms. Fatihah Binti Abdul Kadir at one of Honda's dealership, Botanic Auto Mall Sdn. Bhd.
Botanic Auto Mall dealer owner Dato' Mahfoz Bin Haji Hamid said, "The Civic is one of the most popular Honda models and it is in high demand. We are honoured to be the dealer to witness the successful delivery of the 130,000th Civic to Ms. Fatihah and to be a part of this significant milestone celebration. We look forward to providing Ms. Fatihah and all our customers with excellent after-sales service to ensure customer satisfaction even after the car is purchased and delivered."
"I have always been a fan of Honda. Before purchasing this Civic, I previously owned a Honda Stream. I was impressed with the premium and innovative features in the Civic that added more fun to my daily commute. I booked the car early this year and have been waiting expectantly to receive the car. But, to become the 130,000th Civic owner is really a pleasant surprise! I am truly delighted with my Civic and can't wait to bring it on-the road," commented Ms. Fatihah who was present at the ceremony to receive her new car.
Honda Malaysia is grateful for the support of all customers. In this holy month of Ramadan, Honda is rewarding all new customers with special rewards worth up to RM5,000** in the "Enjoy the Special Gifts of Ramadan"** campaign. The promotion begins on 1st May 2019 and ends on 31st May 2019**.
The Civic is priced from RM108,165*** and is available for viewing and test drive at any of Honda's 98 authorised dealers nationwide. For more information, customers can call Honda's Toll Free number at 1-800-88-2020 or log on to www.honda.com.my for more information.

*As of January 2019
**Terms and conditions apply
*** On-The-Road without Insurance in Peninsular Malaysia
Honda Malaysia Group Vice President, Ms. Jahabarnisa Haja Mohideen congratulated the 130,000th proud owner of the Civic 1.5L VTEC Turbocharged Premium, Ms. Fatihah Binti Abdul Kadir.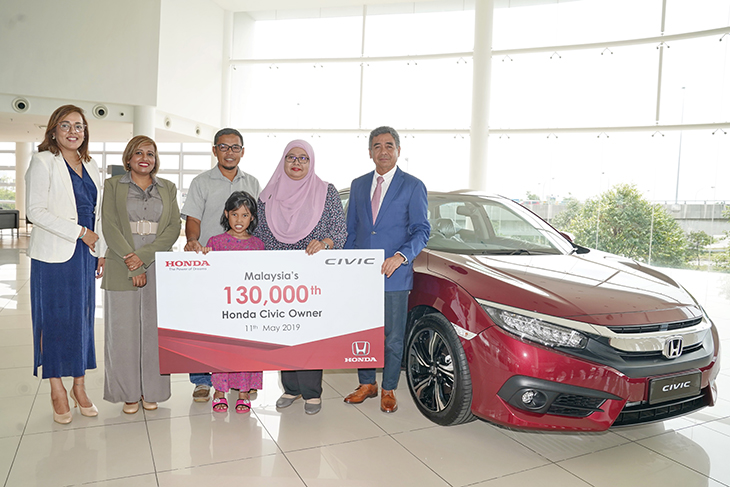 Owner of the 130,000th Civic Ms. Fatihah Binti Abdul Kadir with her family (centre), being congratulated by Honda Malaysia Head of Sales Division, Ms. Sunita Prabhakaran (left), Honda Malaysia Group Vice President, Ms. Jahabarnisa Haja Mohideen (second from left), and Botanic Auto Mall dealer owner Dato' Mahfoz Bin Haji Hamid (right).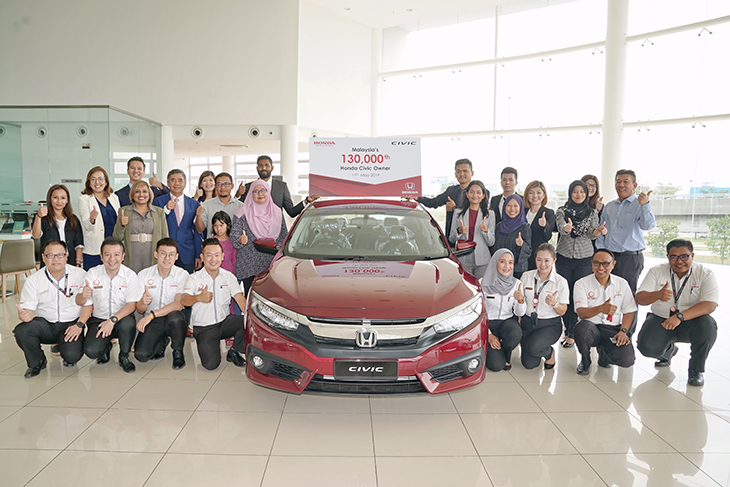 Owner of the 130,000th Civic, Ms. Fatihah Binti Abdul Kadir and her family (centre) with the management and associates of Honda Malaysia and Botanic Auto Mall.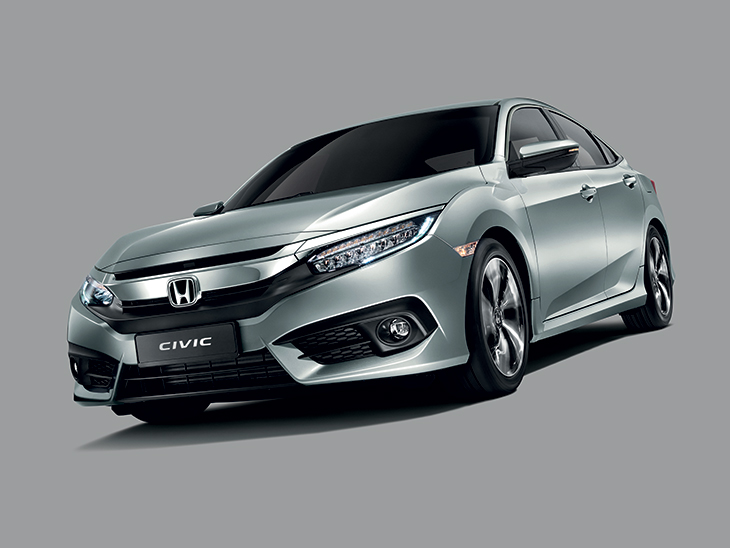 Honda Malaysia marks a significant milestone with the delivery of the 130,000th Civic.