Petaling Jaya, 25 September 2020 – Honda Malaysia (or the Company) today announced that the 5th Generation All-New City RS i-MMD will be offered with Honda SENSING, the most complete advanced safety features in the B-segment. The enhanced Honda SENSING system in the All-New City RS i-MMD utilizes a front wide view camera to recognize better road boundaries during day and night driving conditions. Developed by Honda to meet the objective of 'Safety for Everyone" and to realize the vision of a collision-free mobile society, Honda SENSING is an advanced safety system to alert and assist drivers during various driving situations.
The 5th Generation All-New City RS i-MMD is equipped with enhanced Honda SENSING features as below:
1. Adaptive Cruise Control (ACC)
2. Collision Mitigation Braking System (CMBS)
3. Forward Collision Warning (FCW)
4. Lane Keeping Assist System (LKAS)
5. Road Departure Mitigation (RDM)
6. Lane Departure Warning (LDW)
7. Auto High-Beam (AHB)
Honda Malaysia Managing Director and Chief Executive Officer Mr. Toichi Ishiyama said, "I believe the upcoming 5th Generation All-New City will excite Malaysians with its advanced safety technology and class-leading features. Last month, we organised an on-going nationwide tour where people can take the opportunity to view the All-New City RS i-MMD up close. We are delighted to receive high interest and positive feedback from the public and bookings have been very encouraging. The All-New City RS i-MMD offers first in segment features such as Remote Engine Start, Honda LaneWatch and Electric Parking Brake. We are now raising the benchmark further to introduce a most complete Honda SENSING feature in its segment which was previously only available in the C, D and SUV segment."
"For the All-New City, we have implemented several technology enhancements for facilities in the Melaka manufacturing plant such as new inner frame welding to enhance its body rigidity and new spray polyurethane foam to reduce body noise and vibration. This is to ensure utmost quality so that customers can continue to enjoy owning a Honda car. On top of that, Honda Malaysia is the first and only car manufacturer in the country to assemble an Intelligent Power Unit (IPU) from individual lithium-ion battery components to a complete power unit where the assembly process is on par with the technology in Honda Japan. We are confident that the exciting and advanced features in the All-New City will be attractive to our customers and we look forward to bringing the Joy of Buying to all Malaysians," added Mr. Ishiyama.
Overall, the All-New City presents a sleeker appearance. In terms of body dimensions, the All-New City measures 4,553 mm in length, 1,748 mm in width and 1,467 mm in height. Compared to its 4th Generation predecessor, the All-New City is now longer by 111 mm, wider by 54 mm and lowered by 10 mm, providing a low and wide stable stance. The body size dimensions of the All-New City are above a B-segment sedan and comparable to a C-segment sedan.
Aside from that, the All-New City portrays a modern and sporty exterior design which accentuates a sense of large vehicle size class. It features New LED Headlights (RS & V) with LED Daytime Running Lights (DRL) as well as New LED Taillights to signify an unrivalled exterior appearance. To further enhance its exterior looks, the New Carbon Patterned Front Lip¹ and New Rear Bumper with Diffuser¹ gives a sporty impression. Additionally, the Gloss Black Ducktail Spoiler¹ and the New Gloss Black Door Mirror¹ creates a two-toned expression of the body colour while the aesthetically attractive 16" Alloy Wheels in Dual-Tone¹ further compliments the sleek appearance of the car.
The 5th Generation All-New City's line-up will feature four new variants. The RS variant with intelligent Multi-Mode Drive (i-MMD) powertrain delivers maximum torque of 253Nm, which is highest in its class and is comparable to D-segment torque performance, for an exciting and thrilling acceleration driving feel. The All-New City will also be offered in a new 1.5L DOHC i-VTEC engine, providing a balance of performance and fuel efficiency.
The Remote Engine Start is a first in segment new advance feature to be offered in the All-New City RS i-MMD. This technology allows driver to start their vehicle while the doors are locked and to activate the air-conditioning to cool down the cabin with a simple push of a button on the keyless remote – a welcomed element in Malaysia's hot and humid weather. Additionally, the Rear Ventilation Air-Conditioning of the All-New City ensures convenience and comfort for passengers at the rear seat, thus making every journey enjoyable and cozy for everyone.
Booking for the All-New City started on 14th August 2020 at all Honda Malaysia's 101 authorised dealerships nationwide. Customers will receive a RM1,000 Service Voucher² when they place a booking now for the All-New City under the 'Special Early Booking Programme'³. The public can still view the car up close at its ongoing nationwide tour*. For more information, customers may log onto www.honda.com.my, call Honda's Toll-Free number at 1-800-88-2020 or visit any nearest Honda authorised dealers to book the All-New City now!
¹Applicable only in RS variant
²Service Voucher – one-year validity. Terms and Conditions apply
³Starting from 14th August 2020 up until official launch of the All-New City
*Please refer to Honda Malaysia's official website for updated nationwide tour schedule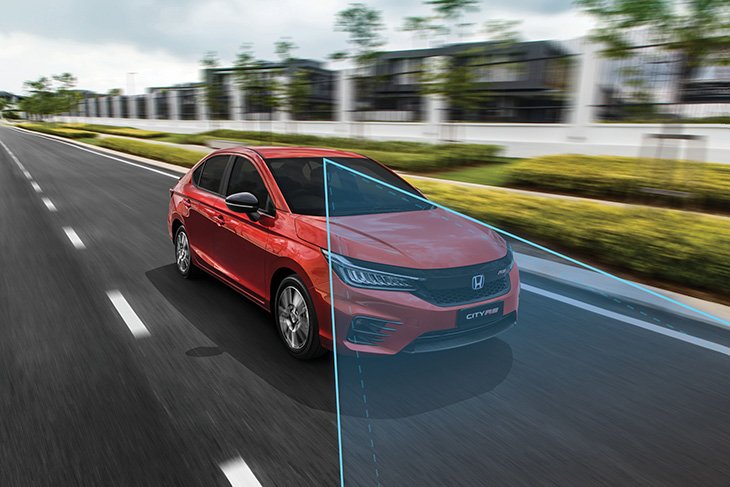 All-New City RS i-MMD comes with enhanced Honda SENSING, the most complete advanced safety features in its segment.