Petaling Jaya, 5 January 2021 – Honda Malaysia (or the Company) today announced that the Company has achieved total sales of 60,469 units in 2020, and maintained its undisputed leadership position as No.1 in the Non-National Segment¹ for the sixth consecutive year. This sales achievement was largely contributed by the City which recorded highest sales at 34% of total sales. The second best-selling model is Civic followed by HR-V at 20% and 17% contribution to the total sales respectively.
The All-New City recorded highest monthly sales in its history with over 5,500 units sold in December 2020. Officially launched in October 2020, the All-New City received positive response from the market with more than 15,200 bookings to date, making it one of the highest booking figures for a newly launched model in Honda Malaysia in the second half of 2020. Between October and December 2020, Honda Malaysia has delivered close to 10,800 units of the All-New City to customers throughout Malaysia. The 5ᵗʰ Generation All-New City is set to raise the stakes in its segment with an attractive overall package that is beyond the B-segment, complete with pioneering advanced technology, unparalleled performance and stylish design.
Amongst the three variants of the All-New City, the V variant emerged as the most popular variant, capturing 52% of total sales. The highest demand came from the Central region of Peninsular Malaysia, which contributed 48% of total sales received, followed by Southern region at 19% and Northern region at 18%. Based on the sales achieved, the Platinum White Pearl colour appears to be the favourite with customers, representing 26% of the overall sales for the All-New City.
Honda Malaysia Managing Director and Chief Executive Officer, Mr. Toichi Ishiyama said, "The year 2020 may have been challenging but we have managed to maintain our undisputed No.1 position in the Non-National Segment¹ for the sixth consecutive year with 60,469 units sold and for that, we are truly humbled by the support we have received. The City continues to prove its position as the most popular Non-National B-segment¹ model among Malaysians who love its advanced features in an attractive price package. Throughout the years, the City has never failed to impress Malaysians, and the record sales achieved since the launch of the 5th Generation All-New City proved that it is still a much-loved model. On behalf of Honda Malaysia, I would like to thank all our customers for making this milestone a significant one even during these challenging times. Your continuous trust in the Honda brand has allowed us to keep trying to outdo ourselves in our service to you as we strive to bring forth the 3 Joys of Honda, which are Joy of Buying, Joy of Selling and Joy of Creating."
Mr. Ishiyama added, "We sincerely thank the Malaysian Government for the extension of sales tax exemption until 30ᵗʰ June 2021 which will allow many Malaysians to purchase cars with extra savings. As we move on in 2021, we will continue to support the Government's efforts to curb the pandemic which is still active nationwide."
Conceptualised to be ambitious and confident, the 5ᵗʰ Generation All-New City carries a bold and sporty presence. The V variant's outlook features New LED Headlights with LED Daytime Running Lights (DRL), New LED Fog Lights as well as New LED Taillights which have given it its top spot in terms of popularity amongst the three variants of the All-New City. A set of 16-inch Alloy Wheels completes the cutting-edge design of the car for the V variant.
Powered by a new 1.5L DOHC i-VTEC powertrain, and coupled with Continuous Variable Transmission (CVT), the All-New City is able to produce up to 121PS, which is highest in its class and a maximum torque of 145Nm. Besides, the All-New City interior styling features high-quality textures and functional approach, with trimmed Leather Seats² and Ivory highlights² at inner areas.
The All-New City (V and E variants) also features an 8-inch Display Audio with Apple CarPlay™ and Android Auto™³ Connectivity for the added convenience. This is complemented by the Remote Engine Start feature (V and E variants), a first in its class technology, which provides drivers the convenience of starting their car with a simple push of a button on the keyless remote.
Safety-wise, the V variant comes with Six Airbags and Honda LaneWatch. Other standard safety features include Vehicle Stability Assist (VSA), Anti-lock Braking System (ABS), Electronic Brake Distribution (EBD), Brake Assist (BA), Emergency Stop Signal (ESS), Hill Start Assist (HSA), Rear Seat ISOFIX I-SIZE Type and New Rear Seatbelt Reminder. Meanwhile, Reverse Sensors with Multi-angle Reverse Camera are also offered in the V and E variants.
For more information on the All-New City or to test drive any Honda models, customers are invited to visit any of the 102 Honda authorised dealerships nationwide or call Honda's Toll Free number at 1-800-88-2020 or log onto www.honda.com.my.
¹Based on internal data
²Combination Leather
³Android Auto™ will be available upon its official launch of the service in Malaysia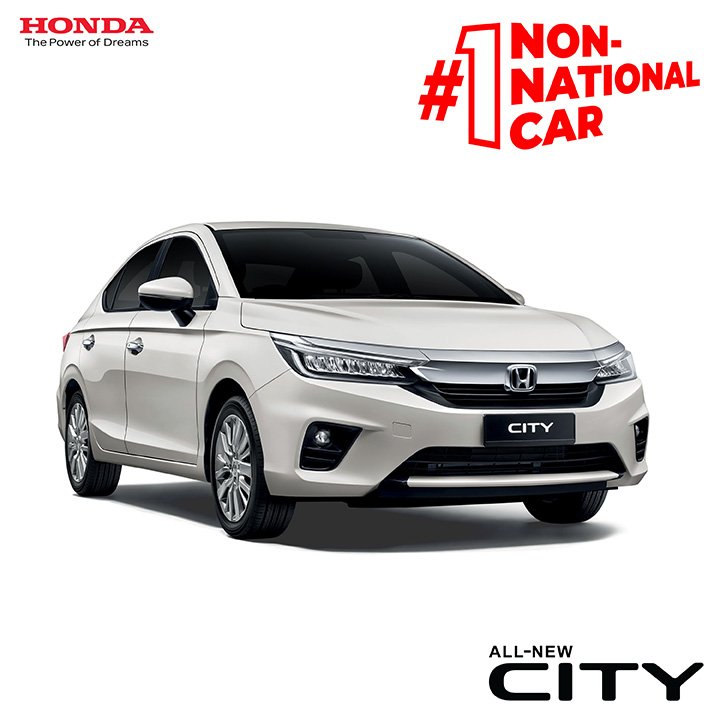 Honda Malaysia Maintained No.1 Position In The Non-National Segment¹ For The Sixth Consecutive Year