Petaling Jaya, 23 February 2021 – Honda Malaysia (or the Company) took a step forward to be with Malaysians during this challenging time by helping the communities around us that were affected by the COVID-19 pandemic and flood disaster. As such, the Company has distributed necessities to identified Malaysians, including 'Flood Safety Kit' for the recent flood victims in Pahang, facemasks for schools and laptops for underprivileged students in February 2021.
To address the urgent need of having necessary tools for online learning, Honda Malaysia has arranged for laptops to be delivered to four secondary schools in Melaka. The laptops were given to students who come from low-income families and lack devices for Home⁠—⁠Based Teaching and Learning (PdPR) classes.
Honda Malaysia Managing Director and Chief Executive Officer Mr. Toichi Ishiyama said, "The on-going battle with COVID-19 has been a great challenge for students to keep up with their studies, especially those from low-income backgrounds. With the new norm, students have no choice but to opt for online schooling. Devices such as computers become a necessity for students to cope with distance learning and this has affected students who have limited access to technology devices. We hope through our contribution the students will have a better study environment and be more motivated to continue their education."
"Honda strives to be a company that society wants to exist. Thus, Honda wants to be with the community always, during good and bad times, coming 'Together As One' with Malaysians. In addition to the laptops to students, we provided 500 boxes of facemasks to 10 primary schools and 10 secondary schools in Melaka. Each school was allocated with 1,000 pieces of facemasks for the students to remain protected and adhere to the health safety Standard Operating Procedures (SOPs)."
Honda Malaysia also extended the help by providing other essential items such as 1,000 pieces of face shields to frontliners in Hospital Queen Elizabeth in Kota Kinabalu, Sabah and 'Flood Safety Kit' to 500 families in Pekan, Pahang who were the victim of recent flood disaster.
All distributions conducted by Honda Malaysia were in compliance with all health safety Standard Operating Procedures (SOPs).
Honda Malaysia has arranged for laptops to be delivered to four secondary schools in Melaka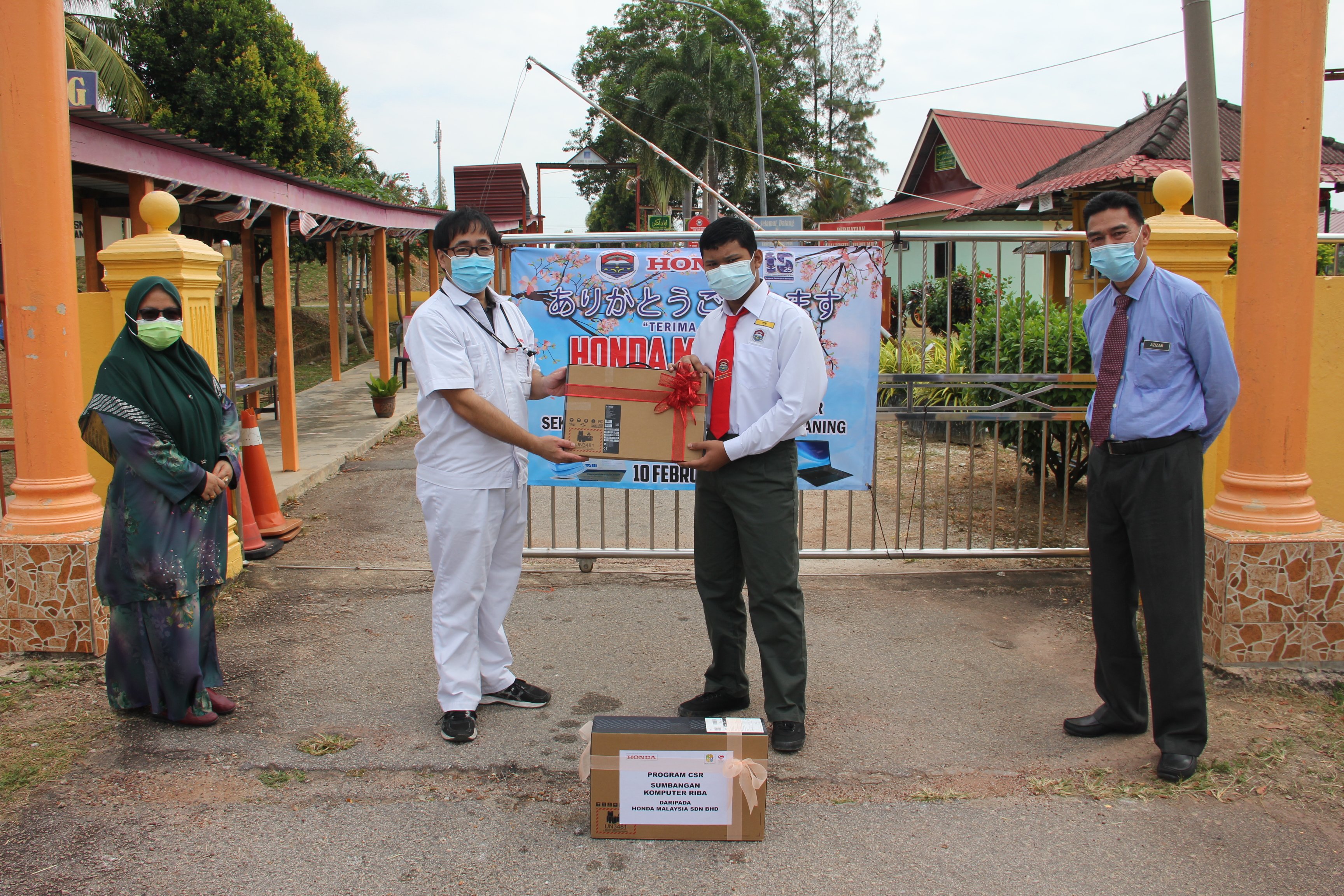 Representative of Honda Malaysia handing over the laptops to a representative student with the presence of teachers from the school