Petaling Jaya, 25 February 2021 – Honda Malaysia (or the Company) today invites Malaysians to celebrate the journey of reaching 1 million sales units with the launch of the "1 Million Dreams Campaign". In addition to commemorating the significant achievement, the campaign aims to show the Company's appreciation to its customers for their steadfast support and trust in the Honda brand. In 2019, Honda Malaysia celebrated the 900,000th unit sales record with Malaysians, and within two years, the Company chalks up yet another impressive record by reaching the 1 millionth unit sales milestone.
Honda Malaysia Managing Director and Chief Executive Officer Mr. Toichi Ishiyama said, "Over the last 20 years, Honda Malaysia continuously embrace the 'Challenging Spirit'. This led to the introduction of many models that suit the different lifestyles of customers as well as advanced technologies for Malaysians. The "1 Million Dreams Campaign" is an initiative for us to say thank you to our customers as it is their strong support that has enabled us to come a long way and experience this inspiring journey. As our heartfelt appreciation, we are giving away seven Special Edition models, namely the Jazz, All-New City, BR-V, HR-V, Civic, New CR-V and Accord. The campaign runs from 25th February to 24th March 2021, with a variety of exciting activities in store for Malaysians. We wish to express our sincere gratitude to members of the media for their ongoing support and honest reviews of Honda products as well as our dealer partners for their strong commitment to uphold the Honda brand. We would also like to thank the Malaysian government for their continuous support throughout the years as well as introducing the Short-Term Economic Recovery Plan (PENJANA) during the pandemic, this provides substantial support to the automotive industry."
The seven Special Edition models to be given away in the "1 Million Dreams Campaign" are specially designed with unique features, making it a one-of-a-kind model in Malaysia. The cars' exterior has Dual Tone Exterior, Front Fascia with Red Highlights, Sporty Red Line Side Mirrors, Black Painted Alloy Wheels with Red Highlights as well as 1 Million Dreams Signature Emblem on both front fenders of the cars. These distinctive features further enhance the characteristic and stylishness of each model. The Special Edition cars interior are also fitted with 1 Million Dreams Embossed Leather Headrest for both driver and front passenger seats as well as Leather Steering Wheel with Red Stitching and Center Mark. Each 1 Million Dreams Special Edition model also comes with Special Edition Leather Key Pouch.
Honda Malaysia President and Chief Operating Officer Mr. Sarly Adle Sarkum said, "Honda Malaysia has arranged numerous exciting activities in this "1 Million Dreams Campaign" such as nationwide showroom activities and a 1 Million Dreams Exhibition. We are also delighted to have special collaborations with our brand partners – CUCKOO, Shopee and Watsons. In addition, we want to express our appreciation to all the frontliners for their hard work and dedication. Hence, we allocated one of the seven Special Edition cars specially for them to win through this campaign. On top of the seven Special Edition cars, we have prizes worth 1 Million Shopee coins to be given out to 150 lucky winners on a weekly basis, and throughout the campaign we have prizes worth 5 Million Shopee coins."
Malaysians can stand a chance to win these seven Special Edition models just by completing a few easy steps to participate in the contest. Participants can take part in any of the six activities prepared by Honda Malaysia to earn as many entries as they can and submit the entries at Honda authorised dealers or via Honda Malaysia's official website. Participants can collect the entries by downloading and signing up for HondaTouch application, playing the 1 Million Dreams Quiz Game¹ at Honda Malaysia's official website (www.honda.com.my), test driving a Honda car, booking a new Honda car, servicing or repairing a Honda car or registering a new Honda car within the "1 Million Dreams Campaign" period. The more entries collected, the higher the chance of winning the Special Edition cars.
CUCKOO International Founder and Chief Executive Officer, Mr. Hoe Kian Choon said "Sharing our passion as a Healthy Home Creator to constantly bring value and enhancing the lives of all Malaysians, we are proud to be partnering with Honda Malaysia through their "1 Million Dreams Campaign". Through this collaboration, we will be offering our customers and fans who purchase any of our selected Beyond Standards CUCKOO, or our newly launched and astoundingly comfortable A-Series Mattresses in March, a chance to drive home a Honda car. We welcome all our CUCKOO customers and fans to grab this opportunity to complete their dream homes with us."
Shopee's Regional Managing Director, Mr. Ian Ho said, "We are honoured to be partnering Honda Malaysia for their "1 Million Dreams Campaign" - a celebration of having sold one million units of their vehicles here in Malaysia. Apart from Honda Malaysia showing its appreciation to its customers for their trust in the brand, this partnership speaks volumes of Honda's digitalisation journey whilst giving us the chance to help it gain further success through e-commerce. Needless to say, we are excited to be giving away a special edition Honda HR-V on Shopee and be part of making a dream come true for that one lucky user. To be eligible, play the Shopee Lucky Prize on the App - it is that easy. Here's to many more milestones to come and we look forward to driving meaningful experiences with Honda Malaysia."
Ms. Caryn Loh, Managing Director of Watsons Malaysia said, "Congratulations to Honda Malaysia for the remarkable achievement! We are glad to be part of the "1 Million Dreams Campaign" to commemorate this milestone with Honda Malaysia. In this campaign, we have put together an exclusive contest for our loyalty members to stand a chance of winning the special edition model – the all-rounder BR-V. Watsons members can participate in the contest by spending more than RM50 in a single receipt at any Watsons store or online. I encourage all our members to grab this opportunity to join this contest."
Honda Malaysia will announce the lucky winners of the Special Edition cars at the Grand Finale which is scheduled for March 2021.
"This year, Honda Malaysia is set to excite the Malaysian market. In the era of digitalisation where its development and uptake are further accelerated by the new normal, Honda Malaysia strives to provide a comprehensive digital platform for its customers by enhancing its HondaTouch application and digital pre-booking platform," added Mr. Ishiyama.
The Company strives to keep moving towards the goal and is committed to continuing to improve its product offerings and customer service standard. Honda Malaysia also believes that the extension of the vehicle sales tax exemption period until 30th June 2021 will give a much-needed boost to the nation's economic recovery.
In 2020, Honda Malaysia launched five new models which are the Civic, Accord, BR-V and All-New City, which Malaysians witnessed the World Premiere of RS e:HEV variant as well as the New CR-V. The new models made important contributions to Honda Malaysia's sales record last year, helping the Company to maintain its strong sales momentum with more than 60,460 units sold even during these difficult times arising out of COVID-19. The best⁠-⁠selling model is the City with the highest sales at 34% of the total sales. 2020's sales record is also attributed to the Civic and HR-V at 20% and 17% respectively. The encouraging sales performance has enabled Honda Malaysia to maintain its position as the No.1 car brand in the Non-National segment for the sixth consecutive year.
For more information on the "1 Million Dreams Campaign", customers can log onto the campaign's website honda.com.my/1milliondreams/entry or visit any of the 102 Honda authorised dealerships nationwide or call Honda Malaysia's Toll-Free number at 1⁠-⁠800⁠-⁠88⁠-⁠2020, or log on to www.honda.com.my.
¹ The 1 Million Dreams Quiz Game will be released soon. Stay tuned to Honda Malaysia's Facebook page or official website for more information
"1 Million Dreams Campaign" Activities – Terms and Conditions Apply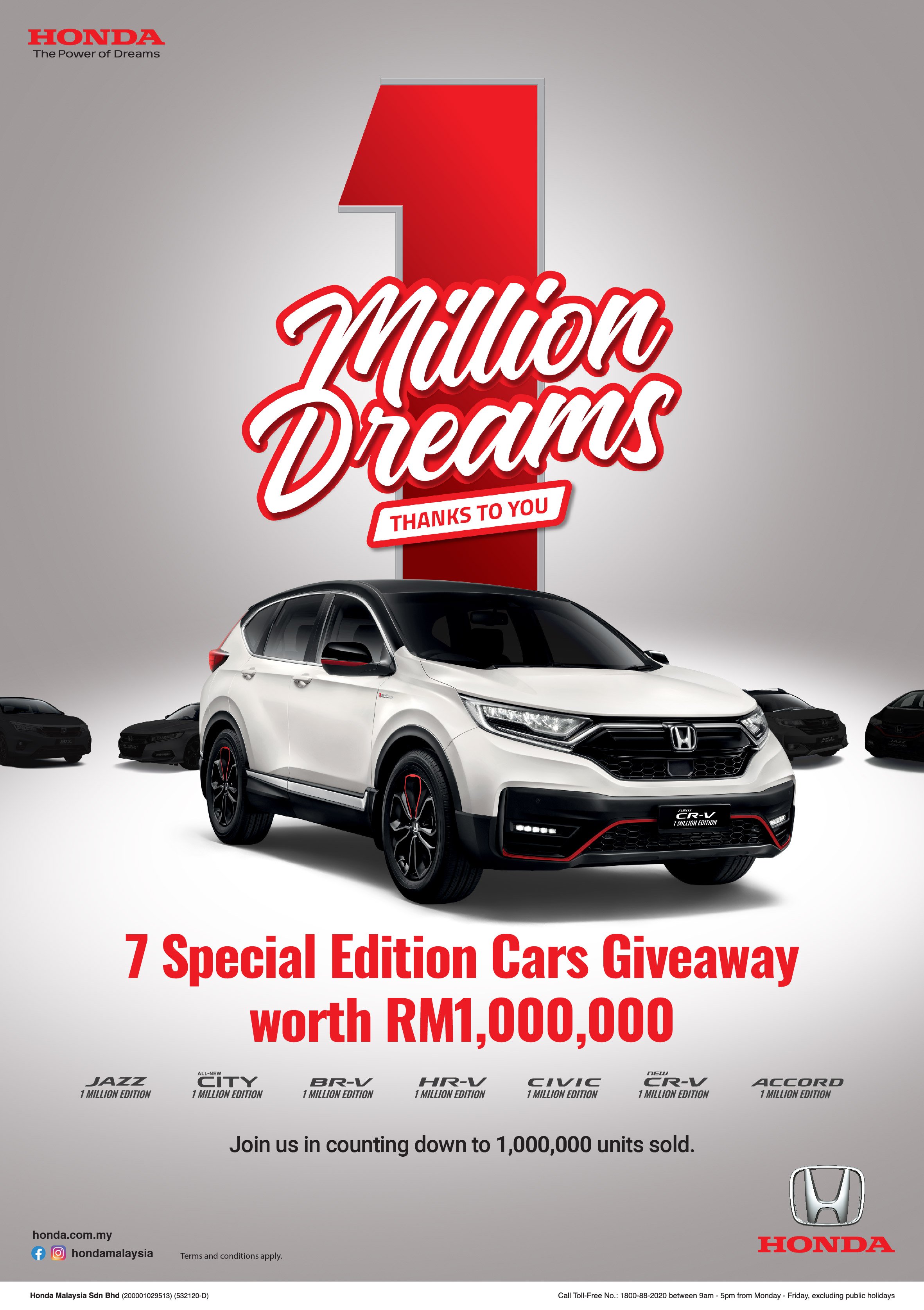 Honda Malaysia invites Malaysians to join the "1 Million Dreams Campaign" to stand a chance to win 7 Special Edition Honda models