Petaling Jaya, 9 March 2021 – Honda Malaysia (or the Company) today introduced its latest innovative and advanced technology, the Honda CONNECT. Applying smart Telematics Technology, it allows the users to connect with their cars with a touch of their fingertips via a smartphone application. The Honda CONNECT brings connectivity to a whole new level for Honda car owners and functions to ensure Safety, Security and Convenience. Key functions of the Telematics technology in Honda CONNECT include Vehicle Diagnostics, Remote Applications, Security Applications, Vehicle Tracking and Support Services – all of which are aimed at easing owner's accessibility to their vehicle and its information whenever and wherever – providing peace of mind; convenience; a sense of pride and the Joy of Owning a Honda car.
Commenting on the latest advanced technology, Honda Malaysia Managing Director and Chief Executive Officer Mr. Toichi Ishiyama said, "The technology within Honda CONNECT embodies Honda's vision of value creation for mobility and people's daily lives. Driven by the passion to share the 3 Joys of Honda through this intelligent and advanced technology, we seek to improve the daily lives of our customers with an innovative and advanced information platform that provides multiple benefits such as peace of mind, convenience and most importantly, fun! This innovative technology is set to redefine safety, security and convenience for Honda car owners, allowing them to fully experience and enjoy their Honda car while enabling us to provide round-the-clock support to our valued customers. The Honda CONNECT technology will be available in the All⁠-⁠New City RS e:HEV variant which will begin delivery to customers from March 2021 onwards."
Within the function of Safety and Security, Honda CONNECT is equipped with Automatic Collision Detection System, Security Alarm Detection, Speed Alert, Find My Car, Geo⁠-⁠Fencing Alert and Emergency Call. The Automatic Collision Detection System provides immediate support to the driver via Honda's 24 Hours Roadside Assist Call Center* in case of an accident or air bag deployment in the car, where a notification will be sent to the Call Center and emergency support will be dispatched*. Users of Honda CONNECT will also be notified via push notification on the application when collisions are detected, and they can be rest assured that help is at hand in case of any emergency.
The Security Alarm Detection feature remotely monitors the car situation from wherever the owner is and a push notification will be sent to the owner as well as Honda's 24 Hours Roadside Assist Call Center* when the car door, trunk or bonnet is forcibly opened. This meant a possibility of the risk of car theft and will trigger the security alarm accordingly. Ultimately, it offers the assurance of being able to park the car with peace of mind. Taking connectivity to another level, owners are also able to conveniently and safely locate their vehicle with the Find My Car function in Honda CONNECT which allows owners to park with ease anywhere knowing that they can now easily locate their car on a map that is linked to their smartphone.
The Speed Alert and Geo-Fencing Alert function is to alert and notify user when the vehicle is being driven out of the set conditional parameters of driving radius and speed limit. This function works to ensure safety of vehicle and driver while preventing possible accidents. The owner is also able to set the speed and location range in the system for monitoring purposes if the vehicle is being used by someone else.
Next, Honda CONNECT also works to innovate Convenience for owners with multiple features such as Remote Vehicle Control; Car Status and Service Reminder; Vehicle Dashboard and Point of Interest (POI) search. One of the most useful and convenient function in Honda CONNECT is the Remote Vehicle Control function which is able to command remote lock or unlock the car when the owner is away in order for a family member to retrieve an item left inside the cabin. Similarly, owners can also request for Honda's 24 Hours Roadside Assist Call Center to unlock the doors remotely if the car keys were accidentally left inside. Besides the car lock, this intelligent feature can also remotely start or stop the car engine, switch on or off the air conditioning to conveniently cool the cabin as well as remotely switching on the lights to help the owner locate the parked car at night time – all of which truly redefines safety and convenience while bringing the joy of connectivity and mobility to customers.
The vehicle dashboard consists of vehicle information such as Car Status and Service Reminder. These information will be connected and displayed on the Honda CONNECT application for the convenience of drivers with alerts and reminders. An emergency call function enables users to quickly connect with emergency contacts which can promptly support and assist user in emergencies. Driving behaviour and Trip logs work to track and record driving styles with driving data from the connected vehicle. Service Reminder function provides users with updates on all past service information including reminders for next periodical maintenance. Users can check Service History, Parts List and Estimation cost for future vehicle service as well as contact a Honda Dealer to make a service appointment.
Honda CONNECT's Remote Diagnostic Support provides initial assessment and necessary diagnosis on the issue at hand. It can detect any issues with the 11 main indicators, after which Honda's 24 Hours Roadside Assistance Call Center will arrange for necessary support if requested by the owner. Similarly, with the other safety and security features, a push notification will be sent to users when trouble occurs with the vehicle and is detected on the warning lamp. The 11 indicators supported by the Remote Diagnostic Support are Anti⁠-⁠lock Brake System (ABS), Supplemental Restraint System, Brake System, Engine Malfunction, Charging System, Vehicle Stability Assist (VSA) System, Electric Power Steering (EPS) System, Lane Keep Assist System (LKAS), Adaptive Cruise Control System (ACC), Safety Support and Power System.
Honda CONNECT also works to offer an advanced form of communication through the One⁠-⁠to⁠-⁠One Message function, Social Network Services (SNS) Posting and Customer Inquiry features. The One⁠-⁠to⁠-⁠One Message are reminders on service maintenance, insurance renewal and annual vehicle tax deadline while SNS Posting allows users to share their vehicle trip logs with their community via social media. Additionally, the application connects and gives access for the owner to contact Honda directly for any enquiries as well as for Honda dealers to be in touch with customers for an efficient customer⁠-⁠dealer relationship.
For more information on this exciting new advanced technology platform, customers can call Honda Malaysia's Toll Free number at 1⁠-⁠800⁠-⁠88⁠-⁠2020 or log on to www.honda.com.my to discover more about Honda CONNECT.
*Honda's 24 Hours Roadside Assistance Call Center will send in assistance if the owner and their listed emergency contact are not accessible during the emergency or if requested by the owner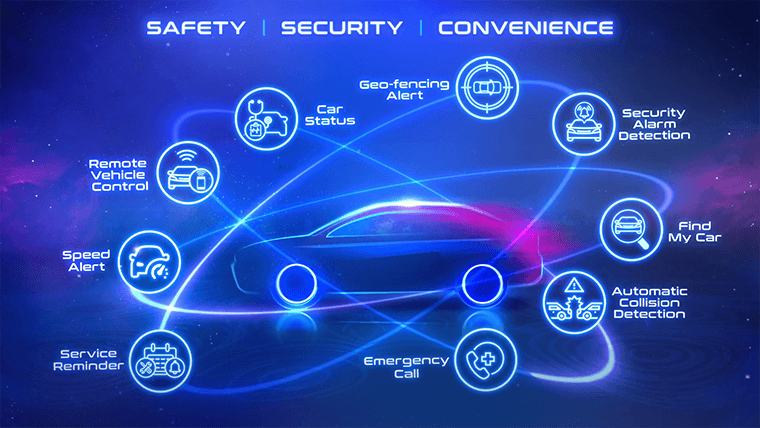 The Honda CONNECT brings connectivity to a whole new level for Honda car owners and functions to ensure Safety, Security and Convenience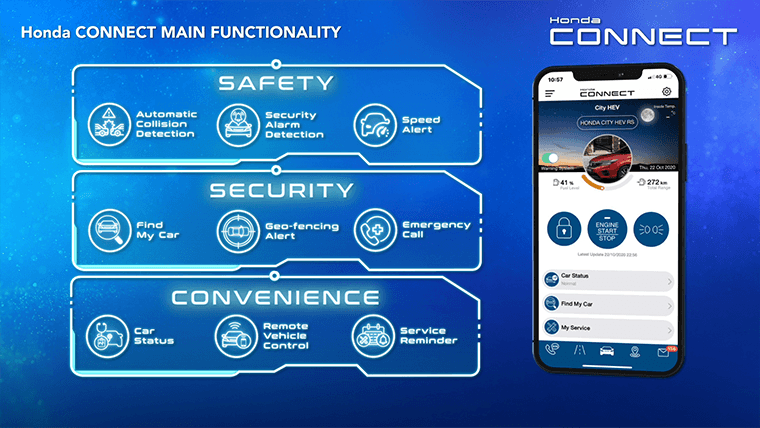 Applying smart Telematics Technology, Honda CONNECT allows the users to connect with their cars with a touch of their fingertips via a smartphone application