Kuala Lumpur, 12 April 2021 – Honda Malaysia (or the Company) today concluded the "1 Million Dreams Campaign" at the 1 Million Dreams Brand Collaboration – Prize Giving Ceremony with its brand partners – CUCKOO, Shopee and Watsons. This final event of the month-long campaign saw the presentation of the final three 1 Million Special Edition models to the lucky winners from brand partners. The Company also announced the 1 millionth Honda customer at the event.
Honda Malaysia's new Managing Director and Chief Executive Officer, Ms. Madoka Chujo, who took office on 1st April 2021 said, "Thanks to the excellent leadership of my predecessors, the strong commitment of our Honda associates and dealers as well as the support from the Malaysian Government has led Honda Malaysia to achieve many remarkable milestones. Last month, Honda Malaysia reached the 1 millionth sale unit milestone and celebrated the achievement with all Malaysians. The Company presented four of the 1 Million Special Edition models to the lucky winners at the 1 Million Dreams Grand Finale. Today, I am very privileged to be here celebrating this outstanding achievement with all of you and presenting another three 1 Million Special Edition models to the lucky winners from our brand partners."
"To all Malaysians, Honda customers, members of the media, and brand partners, thank you for your strong support and for being part of this momentous achievement," Ms. Chujo added.
Three lucky winners who drive home the 1 Million Special Edition models which are the All‑New City, HR-V and BR-V were presented by the brand partners, CUCKOO, Shopee and Watsons respectively alongside Honda Malaysia at the event.


Please refer to the table below for the three winners of the "1 Million Special Edition" models.
| | | | |
| --- | --- | --- | --- |
| No. | Models | Presented by Brand Partner | Winners |
| 1. | All-New City | CUCKOO | Ms. Megawati Binti Affendi |
| 2. | HR-V | Shopee | Mr. Muhammed Faisal Adnan |
| 3. | BR-V | Watsons | Mr. Mohd Aisamuddin Bin Mohd Azilah |

"Congratulations to all winners of Honda Malaysia's 1 Million Dreams Campaign as well as Honda Malaysia's lucky 1 millionth customer! As a Healthy Home Creator who is constantly in pursuit of enhancing the lives of all Malaysians through Beyond Standards Healthy Home offerings, we are also happy that collaboration like that has curated greater excitement and experience for our customers in their journey of improving their living standards and completing their dream homes. We look forward to greater collaborations like this to inspire more to live healthier and happier," said CUCKOO International Founder and Chief Executive Officer, Mr. Hoe Kian Choon.
Mr. Kenneth Soh, Head of Shopee Mall Malaysia said, "The Honda 1 Million Dreams campaign has provided a lucky and loyal Shopee user a once-in-a-lifetime experience, and from a brand they cherish. Being able to make a user's dream come true further reminds us that strategic partnerships between brands, driven by a common goal, is effective as our customers stand to benefit from our shared efforts. Together, we are able to create meaningful experiences for them and their family, and that is what we want to achieve by the end of the day."
Ms. Caryn Loh, Managing Director of Watsons Malaysia said, "Being the leading health and beauty retailer in the country, rewarding our members have always been one of the initiatives of our loyalty program. Therefore, Watsons collaborated with Honda Malaysia to give away one of its Special Edition models, the Honda BR-V. This contest was held back in late February to early April this year and today we are here to reward this lucky Watsons member with that grand prize. We would like to thank all the Watsons members' participation and look forward to expanding our collaboration with Honda Malaysia. Stay updated with Watsons' latest contests via Facebook or www.watsons.com.my."
The seven 1 Million Special Edition models are exclusively designed for the 1 millionth sale unit milestone. The unique features in the exterior are Dual Tone Exterior, Front Fascia with Red Highlights, Sporty Red Line Side Mirrors, Black Painted Alloy Wheels with Red Highlights and 1 Million Dreams Signature Emblem on both front fenders of the cars. Interior-wise, the Special Edition models come with 1 Million Dreams Embossed Leather Headrest for both driver and front passenger seats as well as Leather Steering Wheel with Red Stitching and Center Mark. The Special Edition models also come with a 1 Million Special Edition Leather Key Pouch.
Ms. Megawati who is the owner of the All-New City 1 Million Special Edition will be enjoying a car which is a game changer in the B-segment. The All-New City is powered by a new 1.5L DOHC i-VTEC engine, which is the most powerful engine in its class that produces up to 121PS and a maximum torque of 145Nm. The All-New City sets a new standard for B-segment cars with several advanced technologies that are a first in the segment, such as the Remote Engine Start1 that provides convenience for customers. The safety features of the All‑New City are also fitted with Six Airbags2 and Honda LaneWatch2.
Meanwhile, Mr. Muhammed Faisal can look forward to owning the sporty HR-V 1 Million Special Edition. The HR-V is Malaysians' favourite Compact Sport Utility Vehicle (SUV) and is currently leading the segment. The HR-V RS has a bolder appearance with a Sporty 18‑inch Dual-Tone Alloy Wheels, Sporty Design Front Grille, as well as Black Front and Rear Bumper. The winner will find the Multi-Utility Cargo Space in the HR-V highly flexible and meeting his lifestyle needs, thanks to its three modes of Tall Mode, Long Mode and Utility Mode. The HR-V is now equipped with a new 7-inch display Audio that is compatible with Apple CarPlay™ and Android Auto™3 connectivity. The Compact SUV also provides added convenience with two new USB ports in its centre console. The owner can drive the HR-V with more peace of mind as the HR-V is equipped with Honda LaneWatch2.
For Mr. Mohd Aisamuddin who drove home the highly popular Full 7-Seater Crossover, the BR-V 1 Million Special Edition, he now owns a car which is a range-topper with the biggest trunk space at 223 litres with all the seats up and 539 litres when the third-row seats are folded down. Adding to its spaciousness is the remarkable versatility provided by multiple seat configurations with 60:40 One Touch Tilt & Tumble in the second row and 50:50 Tilt & Full Tumble in the third row. The owner can also enjoy an exceptional driving experience as the BR-V is now equipped with Paddle Shift4 while the interior design is enhanced with attractive new leather seats with Red Finishing4.
Adding to the excitement, Honda Malaysia also announced the 1 millionth model which is the Civic, and it belongs to Mr. Ahmad Sirwan Bin Mat Tuselim. Honda Malaysia together with CUCKOO, Shopee and Watsons presented Mr. Ahmad Sirwan with a token of appreciation that is worth more than RM8,000, as an appreciation gift for the 1 millionth Honda owner in the country.
Honda Malaysia expresses its sincerest gratitude to everyone who has spurred the Company to achieve the 1 millionth sales milestone. The Company is looking forward to excite the market with Next Generation Advanced Technology products.
For more information on Honda models, customers can visit any of the 102 Honda authorised dealerships nationwide or call Honda Malaysia's Toll-Free number at 1‑800‑88‑2020 or log on to www.honda.com.my.
1 Applicable for E, V & RS variants only.
2 Applicable for V & RS variants only.
3 Android Auto™ will be available upon official launch of the service in Malaysia
4 Applicable for V variant only.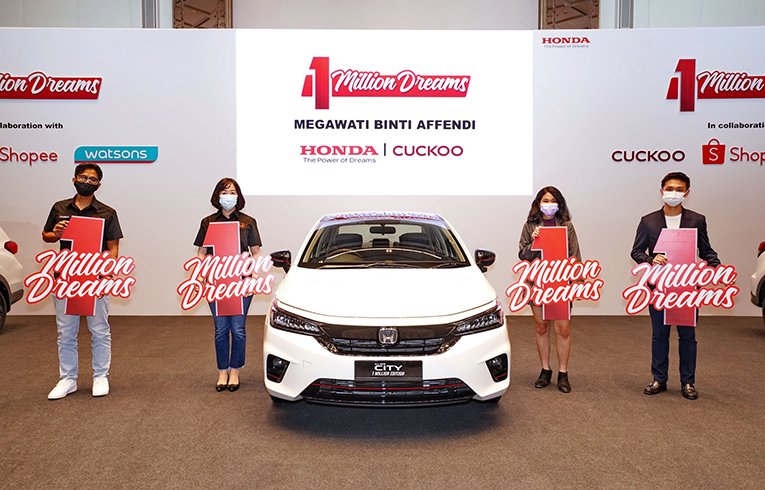 Winner of the All-New City 1 Million Special Edition, Ms. Megawati Binti Affendi was represented by Ms. Iman at the ceremony with Honda Malaysia President and Chief Operating Officer En. Sarly Adle Sarkum, Managing Director and Chief Executive Officer Ms. Madoka Chujo and CUCKOO International Head of Marketing Department Mr. Nick Chin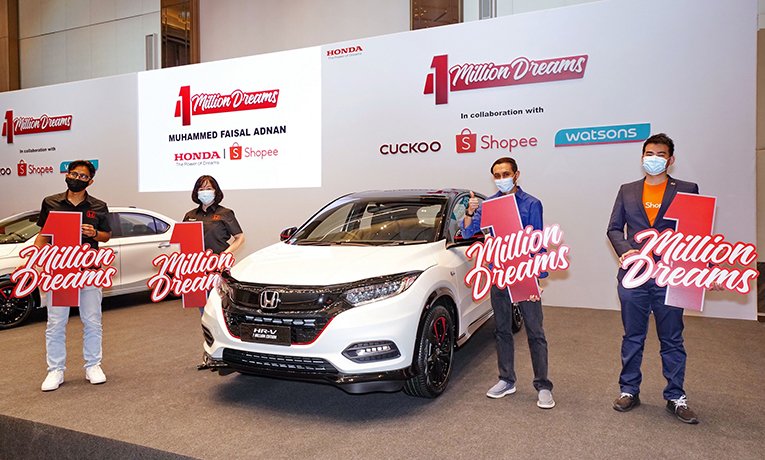 HR-V 1 Million Special Edition winner, En. Muhammed Faisal Adnan with Honda Malaysia President and Chief Operating Officer En. Sarly Adle Sarkum, Managing Director and Chief Executive Officer Ms. Madoka Chujo and Shopee Malaysia Head of Shopee Mall Mr. Kenneth Soh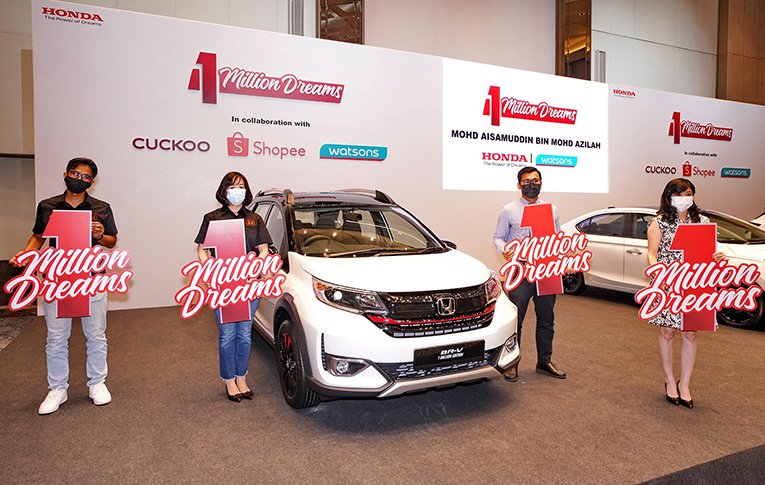 BR-V 1 Million Special Edition winner, En. Mohd Aisamuddin Bin Mohd Azilah with Honda Malaysia President and Chief Operating Officer En. Sarly Adle Sarkum, Managing Director and Chief Executive Officer Ms. Madoka Chujo and Watsons Malaysia Managing Director Ms. Caryn Loh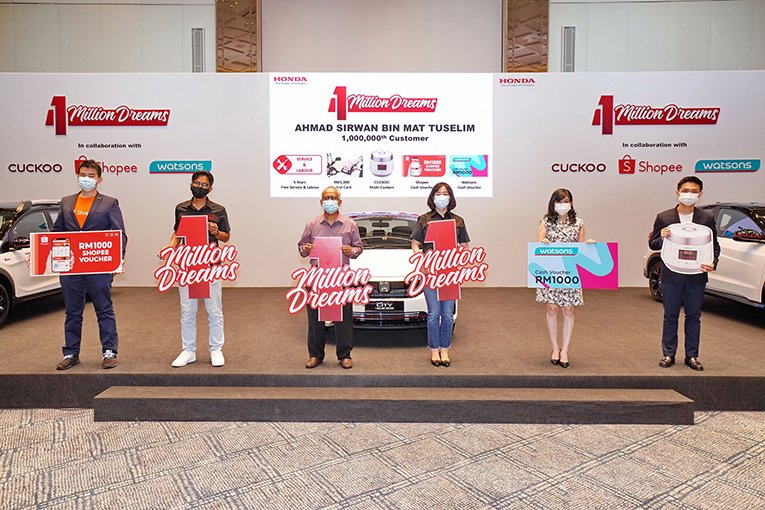 Honda Malaysia 1 millionth customer, En. Ahmad Sirwan Bin Mat Tuselim with Management of Honda Malaysia and representatives from CUCKOO, Shopee and Watsons

Left to right:
· Mr. Kenneth Soh, Head of Shopee Mall, Shopee Malaysia
· En. Sarly Adle Sarkum, President and Chief Operating Officer, Honda Malaysia
· En. Ahmad Sirwan Bin Mat Tuselim, Honda Malaysia 1 millionth customer
· Ms. Madoka Chujo, Managing Director and Chief Executive Officer, Honda Malaysia
· Ms. Caryn Loh, Managing Director, Watsons Malaysia
· Mr. Nick Chin, Head of Marketing Department, CUCKOO International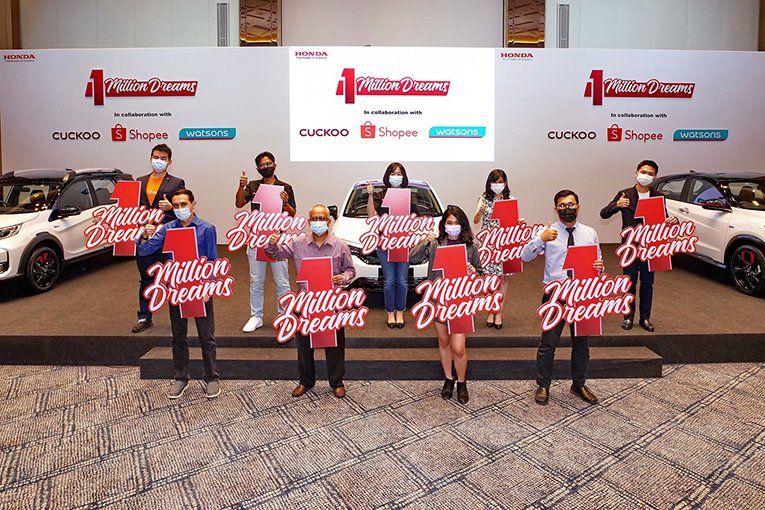 Three winners from brand partners, Honda Malaysia 1 millionth customer, Management of Honda Malaysia and representatives from CUCKOO, Shopee and Watsons taking commemorative photo at the event

Back row, left to right:
· Mr. Kenneth Soh, Head of Shopee Mall, Shopee Malaysia
· En. Sarly Adle Sarkum, President and Chief Operating Officer, Honda Malaysia
· Ms. Madoka Chujo, Managing Director and Chief Executive Officer, Honda Malaysia
· Ms. Caryn Loh, Managing Director, Watsons Malaysia
· Mr. Nick Chin, Head of Marketing Department, CUCKOO International
Front row, left to right:
· En. Muhammed Faisal Adnan, Shopee's winner
· En. Ahmad Sirwan Bin Mat Tuselim, Honda Malaysia 1 millionth customer
· Ms. Iman, representative of Ms. Megawati Binti Affendi, CUCKOO's winner
· En. Mohd Aisamuddin Bin Mohd Azilah, Watsons' winner