Petaling Jaya, 23 December 2021 – Honda Malaysia (or the Company) today announced its Flood Relief Programme to provide aid to Honda customers whose cars*1 were affected by the recent floods. The Company will offer the affected Honda car owners a 25% discount on genuine parts under this programme.
The Flood Relief Programme supports the repair services for affected Honda customers at the flood-stricken areas and the programme is running from now until 31st January 2022. Affected customers are advised to visit any of the Honda authorised dealers for assessment process and inspection service.
Honda Malaysia Managing Director and Chief Executive Officer, Ms. Madoka Chujo said, "We are deeply saddened by the floods that have inundated several states in Malaysia, which resulted in the evacuation of many people from their homes and caused significant damage to their properties and motor vehicles. Striving to be a company society wants to exist, we continue to look for ways to help the communities around us who are in need. We hope that with the rolling out of this Flood Relief Programme, we can help to relieve the burden of our valued customers. Our thoughts and prayers are with the people who are affected by the floods, and we hope everyone continues to stay safe during these challenging times." Honda customers who subscribed to Honda Insurance Plus (HiP) can enjoy free inspection*2 for their cars to ensure that the cars are safe to drive and in good running condition, especially after the floods. In addition to providing towing service for cars damaged by the floods to the nearest Honda authorised dealership, HiP customers are entitled to receive flood allowance of up to RM1,500*2 to alleviate their burden. At the same time, Honda Malaysia is working closely with the insurance companies to expedite the claim process for affected customers.
Honda Insurance Plus (HiP) emphasises three pillars – Rescue, Protection and Savings, in line with Honda Malaysia's commitment to providing peace of mind and protection for all Honda car owners and their cars through a comprehensive coverage. It also comes with roadside assistance where the rescue teams are always ready to assist and help customers at anytime and anywhere.
For more information on the Flood Relief Programme and HiP, customers can call Honda Malaysia's Toll-Free number at 1-800-88-2020 or log on to Honda Malaysia official website at www.honda.com.my.
*1Only applicable for cars purchased from Honda authorised dealerships.
*2Terms and conditions apply.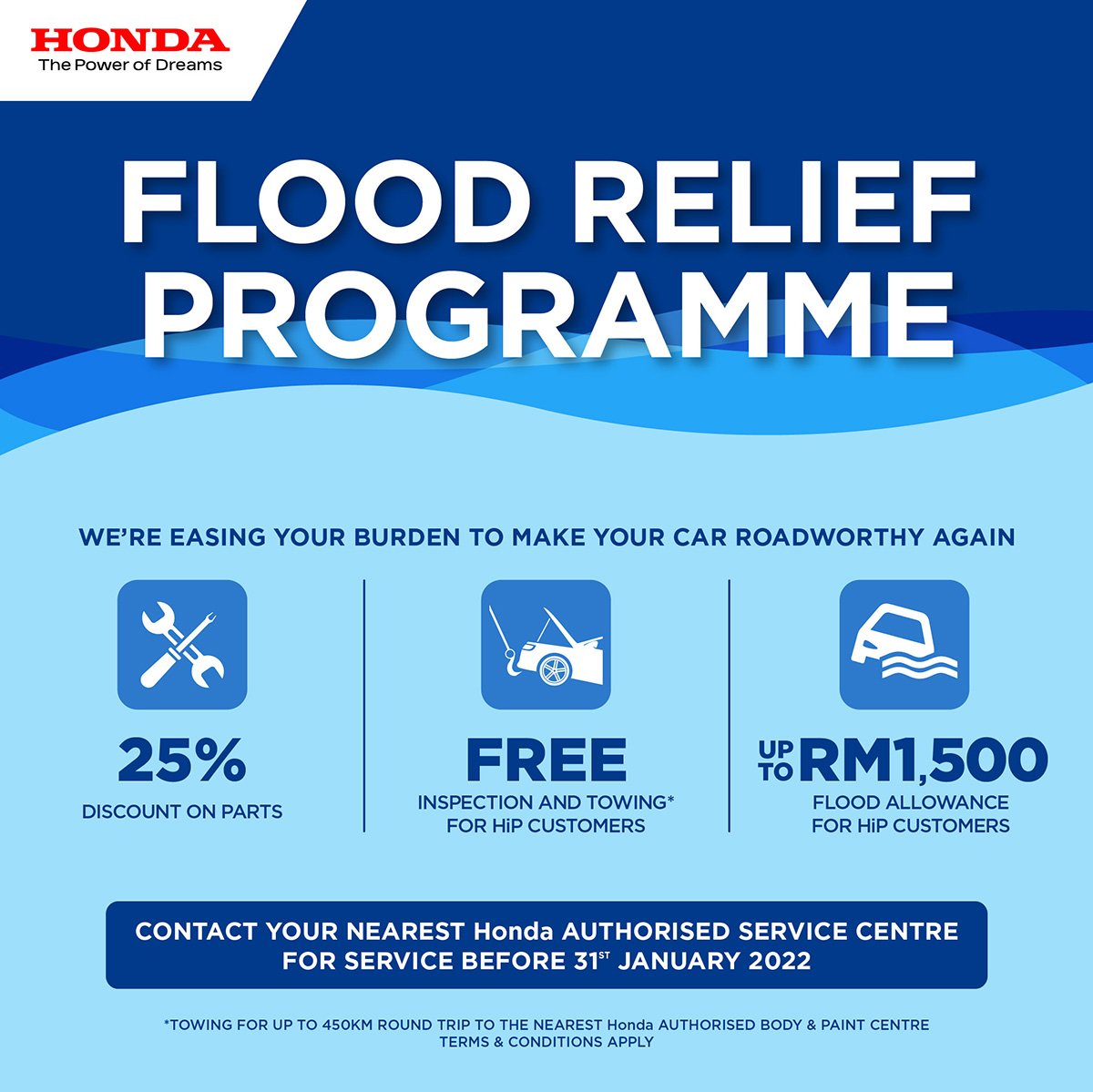 Honda Malaysia initiates Flood Relief Programme to help Honda car owners who are affected by the recent floods